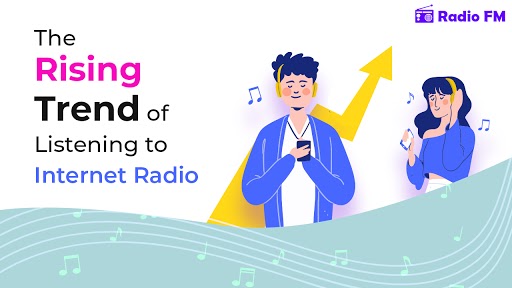 Jul
24
The‌ ‌Rising‌ ‌Trend‌ ‌of‌ ‌Listening‌ ‌to‌ ‌Internet‌ ‌Radio‌ ‌
blogDetail.by_admin | 24 Jul 2020



Internet Radio is undoubtedly a broad-level platform that offers its users the freedom to listen to just anything via the internet. You can access the personalized Online Radio, on-demand music/broadcast, and not forget the stream live radio- these all are self-explanatory terms.
The global inclination towards internet radio has led its users to keep searching for good content online (as we say- Internet radio is the new comfort food for many!). It is a web-based radio service that allows you to stream music or listen to numerous radio shows without worrying about the signal or antenna. Today, people are increasingly streaming music using internet radio for several reasons. Below are some of them.
It is Easy to Use
Online radio stations can easily be accessed through any device as long as you have a good internet connection. So, whether you are taking a bus to work or chilling around somewhere on a holiday, you can access it the way you want it. If your internet connection is strong, there are no restrictions on what you can listen to.
Many people (a majority of them) use online radio access to various stations for entertainment through their Smartphones. Around 42% of Americans tend to stream their music using radio online via tablets and other gadgets. Also, there are several stations available on the play stores, which make it even easier to listen to them.
To Uplift the Mood
A predictable reason people these days can't seem to get off the internet radios is due to the impact streaming music has on their lives. Research shows that people who listen to Radio FM find music to uplift their mood from 10 to 100%. Additionally, music also has a strong impact on people's energy levels, improving it in every situation.
But, why digital radio?
Well, it all hails down to the freedom the internet provides us with. People don't just have their mood lifted not by the music only but they also prefer listening to the radio shows, talk shows, and much more to make them feel good.
The best music streaming applications allow you to select the songs and the artists of your choice. You can easily listen to songs online to relax your mind. People who use music just to relax tend to spend a lot of time on their radio; they listen to online radio whenever they have time.
It is Easy to Afford
It is very rare but most Online Radio's do not charge their listeners. Online radios are fast to catch up with, with most of the stations offering the users the freedom to listen to their favorite songs absolutely free. Having that in mind, music lovers cannot complain about being charged unnecessarily. Somehow, applications like Apple Music App are still the premium service providers- but digital radios are mostly free.
The only concern the users keep complaining about is the data consumption. Some radio applications are said to be data-guzzling. To get around that, radio lovers rely on a wide range of free applications to sample and then compare their data consumption before selecting the services.
Influence on Social Media
Internet radio stations both AM/FM are highly popular on social media these days. As a matter of fact, social networks like Snapchat and Facebook can be appreciated for contributing to the growth of some of these stations. The radio users select a song to listen to the applications and then compare your selection to their friends on Facebook. During the process, they discover various songs that are popular among their friends and family. Around 27% of radio users online linked up their radio accounts with their friends to discover and track their listening habits. Well, this is not unusual for the streamers to stream radio using Social Media- Amazing, isn't it?
To Conclude
Internet radio has gained its popularity and has been growing steadily albeit a little slower when compared to the television. However, the numbers are still rising, especially when we talk about young listeners. The endless lists of music to have access to, affordability along with availability is some of the major reasons driving the users towards various radio streaming applications.