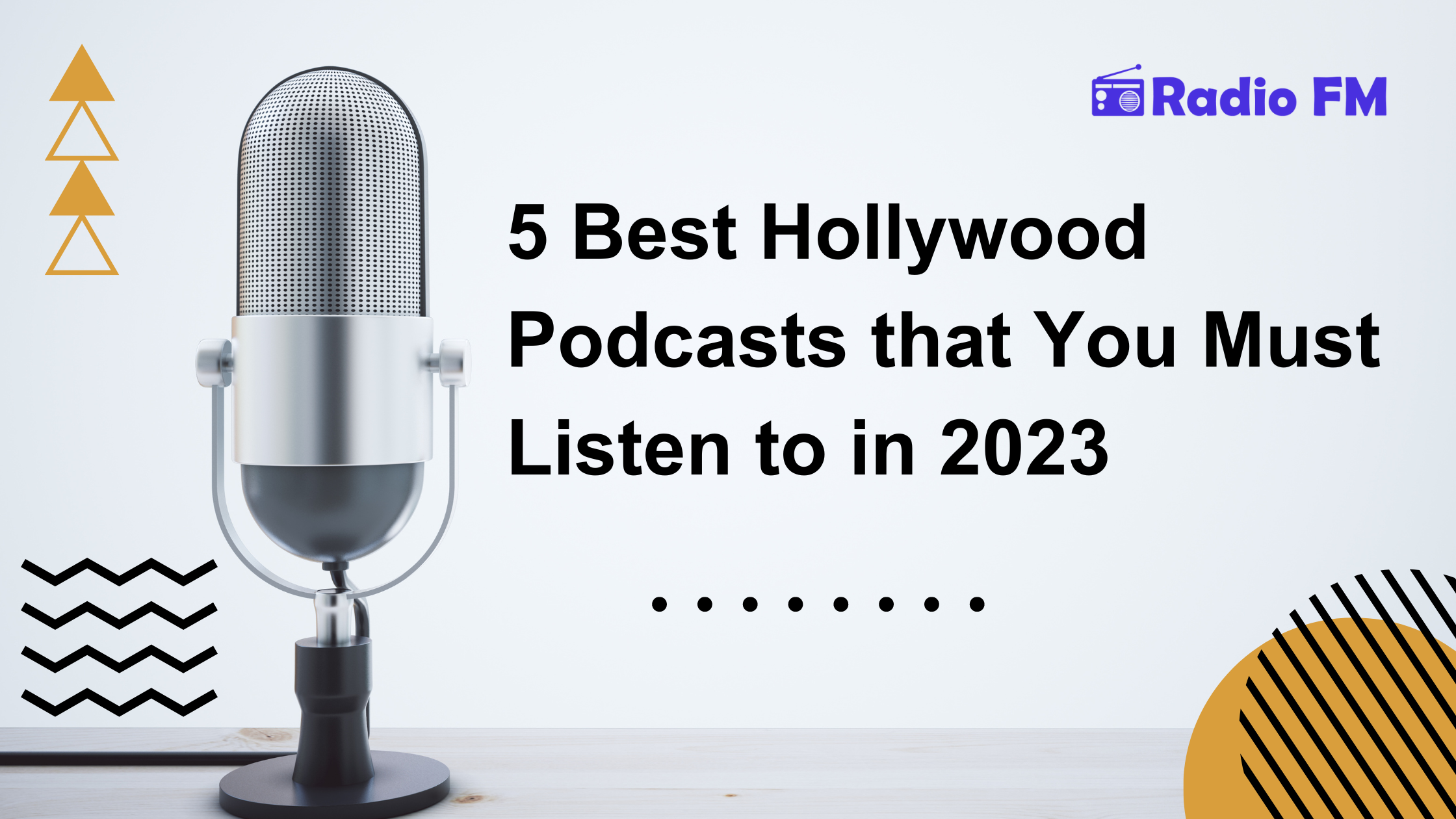 Jul
25
5 Best Hollywood Podcasts that You Must Listen to in 2023
blogDetail.by_admin | 25 Jul 2023
Lights, camera, action! No Wait! where's podcasts? Smart Phone, Headphones, Podcasts!
In 2023, podcasts have taken the digital airwaves by storm, presenting a treasure heap of audio content that goes deep into the heart of Hollywood's most fascinating tales. Whether you're an eager cinephile or simply curious about the inner workings of showbiz then join us in this blog, as we will explore the 5 best Hollywood Podcasts that you must listen to in 2023.
Sit back and get ready to be taken away on an auditory journey into the glamorous universe of Hollywood. From legendary actors recounting their golden memories to energetic new actors triumphing on their success and making their way to the top, journeys from the small screen to the red carpet. Without any further delay, let's get started.
5 Best Hollywood Podcasts in 2023
From thousands of podcasts, AppRadioFm made this list of the 5 best Hollywood podcasts based on the website ranking, social media followers, and freshness of content.
⦁The MovieFilm Podcast
Podcaster(s): Zaki Hasan of San Francisco Film Critics Circle & Brian Hall (Comin Book Writer)
1 Episode/week with an average length of 120 Minutes
In this ever-changing film landscape "The MovieFilm Podcast" acts as a guiding light, leading us through the vast universe of movies and Hollywood's latest trends, making it the perfect destination for those who seek to dive deeper into their favorite films, actors, and cinematic moments.
Through honest and candid interviews with industry insiders, passionate debates on the year's biggest blockbusters, and insightful reflections on timeless classics, the hosts bring their wealth of knowledge and contagious enthusiasm for cinema to every episode.
Why do Listeners Love it?
The hosts' deep knowledge of showbiz, the quality of discovering underrated movies, developing a sense of community with listeners, entertaining and engaging episodes, and staying current on every latest Hollywood information.
⦁Black Men Can't Jump
Podcaster(s): Jonathan Braylock, Jerah Milligan, and James III
2 episodes/week with an average length of 70 minutes.
Despite tackling serious issues based on race in Hollywood, this comedic podcast reviews Hollywood films, provides insightful commentary as well as centralizes the analysis of the portrayal of black characters in the film, and stereotypes within the Film industry.
This podcast also features interviews with guests from Hollywood i.e., Actors, Directors, and Industry experts.
Why do Listeners Love it?
This podcast is loved for being insightful, educational and eye-opening, bringing in diverse perspectives, podcasters inclusive approach, developing community engagement, infusing humor and wit, and advocacy for accepting increased diversity and representation.
⦁You Must Remember this
Podcaster(s): Karina Longworth.
20 episodes/year with an average length of 67 minutes.
As evident from its name "You Must Remember This", this podcast aims at focusing on the classic, long-forgotten, histories, untold stories, and the secrets of Hollywood first Century.
This podcast features intense research, enchanting narrative storytelling, Diverse range of topics i.e., scandals, controversies, secrets, putting spotlights on Iconic stars, filmmakers, and underrated industry figures of the past who shaped Hollywood's history.
Why do Listeners Love it?
The podcast is loved for the Podcaster "Karina Longworth" enchanting narrative storytelling approach couldn't stop the listener from time traveling to the past, episodes are full of revelation and surprises, Accurate, researched historical events, being the podcasts with the cinematic experience, and social and cultural aspects of classic Hollywood.
⦁Hollywood Confessional
Podcaster(s): Meagan Daine and J.R. Zamora-Thal.
1 episode/week with an average length of 25 minutes.
Interested in confessions from Hollywood? Save this podcast as you will get many 100% True confessions, and stories from 100% real Hollywood guests & insiders of the secret world of Hollywood. This podcast offers an unfiltered and authentic perspective on the lives of those who experienced the Ups and Downs, Highs and Lows of Hollywood.
Audience loves this podcast as it features anonymity and candidness so that the guests can lighten the burden without the fear of being judged and encourage them to be honest and candid. Varied Guests with varied perspectives, and a raw and emotional approach that also fosters a sense of empathy and connection between guests and listeners.
Why do Listeners Love it?
Listeners are always curious to get a sneak peek inside showbiz and this podcast offers a look at exclusive behind-the-scene stories, secret confessions, and real and relatable stories, shows the hard part of celebrities' success with an emotional storytelling approach and this podcast and its guests also serves as a source of encouragement and inspiration the aspiring actors, and filmmakers.
⦁The Secret History of Hollywood
Podcaster(s): Attaboy Clarence.
1 episode/week with an average length of 98 minutes.
This mesmerizing and immersive podcast unearths the layers of Hollywood's past to reveal the hidden and untold stories of the entertainment industry's most iconic figures and moments.
This podcast features uncovering of thoroughly research backed secrets, very little known and rarely discussed aspects of Bollywood in a powerful narrative storytelling way that attracts the listeners and this internet radio / podcast also sheds light on the character studies on the troubled life of Hollywood's most famous personalities.
Why do Listeners Love it?
Listeners get behind-the-scene access to showbiz, rich historical context (historical accuracy & context), and engaging storytelling, and for being beyond entertaining it also serves as an educational source for the cinephiles.
Conclusion:
With so much diverse and captivating content, podcasts offer an escape into the captivating world of Hollywood, providing an auditory journey that educates, entertains, and sparks curiosity. So, whether you're a devoted cinephile or simply captivated by the magic of Hollywood content, these five best Hollywood podcasts are a must-listen for every keen podcast follower in 2023. Grab your smartphone, plug in your headphones, and embark on an unforgettable adventure into the glimmering universe of Hollywood's secrets and stories! We at Radio FM has specially curated Hollywood podcasts for our listeners, go check them all!