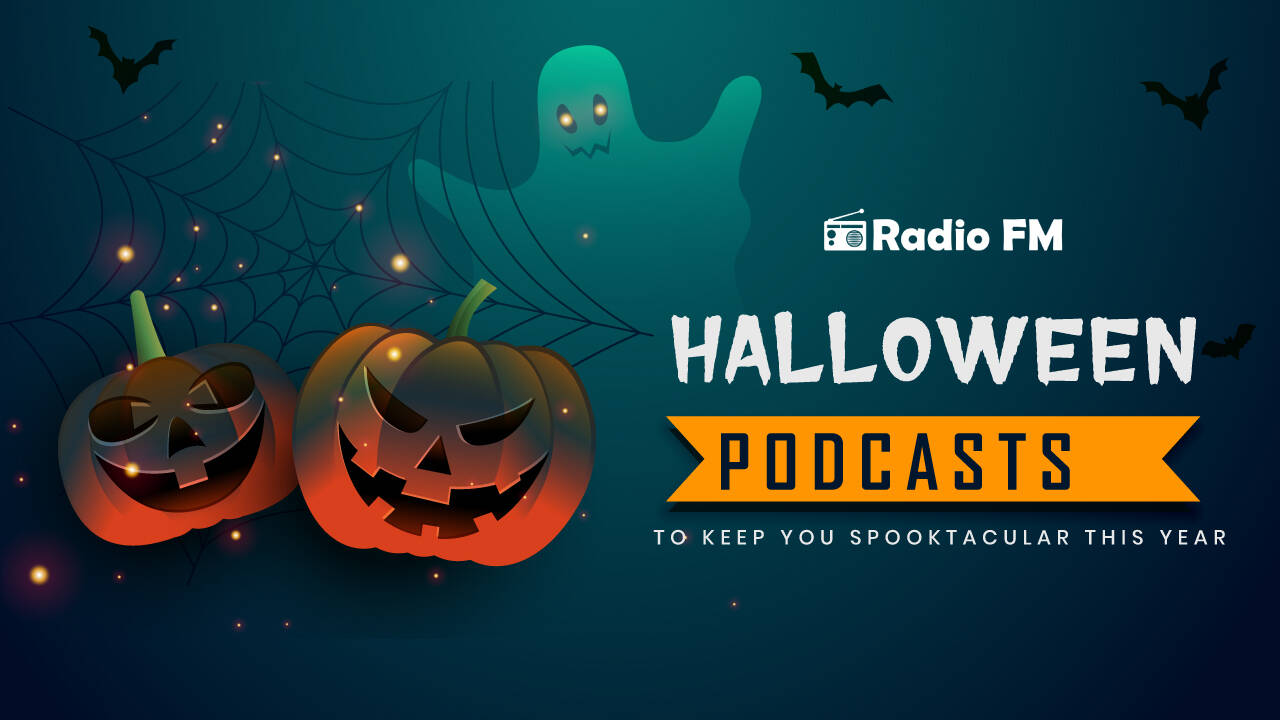 Oct
12
Halloween Podcasts to Keep You Spooktacular This Year
blogDetail.by_admin | 12 Oct 2022
It's that time of year again when the leaves start changing color, the days get shorter, and pumpkins start appearing in grocery stores. Yes, Halloween is just around the corner.
In preparation for the spookiest night of the year, we've put together a list of our favorite Halloween podcasts to keep you entertained all month long.
From true crime to horror stories, these podcasts are sure to get you in the Halloween spirit. So, curl up on the couch with a pumpkin spice latte and get ready for a frightfully good time.
1. Creepy
Scary stories have always been a popular way to entertain and thrill audiences, and the Creepy podcast is a perfect example of this.From creator Jon Grilz, the podcast features some of the most famous and disturbing creepypastas and urban legends from around the world.The stories are narrated in a way that is both creepy and engaging, and the production values are top-notch. Whether you're a fan of horror or just looking for something different, Creepy is definitely worth checking out.
2. Bleeders DIEgest
If you're a horror fan, Bleeders DIEgest is a must-listen. This weekly podcast covers all things horror, from movies and TV to books and games. But Bleeder's DIEgest isn't just about talking about the latest release - it's also about celebrating the history of the genre. Each episode features in-depth discussions of classic horror films, as well as interviews with some of the biggest names in the business.
3. Old Gods of Appalachia
If you're looking for something a little bit different this year, why not check out Old Gods of Appalachia? This podcast tells the stories of the creepy and unexpected creatures that lurk in the hills of Appalachia. From tales of Bigfoot sightings to reports of mysterious animals stalking remote mountain roads, this podcast is sure to get your heart racing. And if you're brave enough to listen at night, you might even catch a glimpse of one of these creatures yourself.
4. The White Vault
RadioFM's top Halloween podcasts continue with The White Vault. If you're looking to be scared this Halloween, look no further than The White Vault.This podcast tells the story of a team of Arctic researchers who uncover something sinister lurking beneath the ice. With its chilling atmosphere and edge-of-your-seat suspense, The White Vault is sure to leave you shivering.
5. Web Crawlers
This podcast tells the story of a group of friends who get more than they bargained for when they go poking around an abandoned house in the woods. With terrifying sound effects and a spine-tingling story, this podcast is sure to send chills down your guests' spines.
6. Magnus Archives
If you're looking for something truly horrifying, look no further than The Magnus Archives. This podcast tells the story of The Magnus Institute, an organization dedicated to investigating supernatural myths and legends. With each episode focusing on a different case file, The Magnus Archives will keep you on the edge of your seat all season long.
7. Wicked and Grim
You're driving home from work on a dark, stormy night. The rain is beating down on your windshield, and the darkness feels like it's closing in on you.
As you approach a particularly sinister-looking stretch of road, you hear a crack of thunder and see a flash of lightning. You turn up the radio to distract yourself from the spooky surroundings, and just then, you hear a voice come into the air. "Welcome to Wicked and Grim," the voice says, "the top Halloween podcast on RadioFM. For the next hour, you sit enraptured as the host tells tales of ghosts, witches, and other eerie subjects. By the time you reach your destination, the darkness doesn't seem quite so intimidating anymore.
Thanks to Wicked and Grim, you've had a truly frightening (and fun) Halloween experience.
9. They Walk Among America
If you're looking for a good Halloween podcast to listen to this year, check out They Walk Among Us. This podcast is all about true crime stories, and it's perfect for anyone who wants to get into the spooky spirit of the season. Each episode features a different case, and they're all narrated in a way that is both chilling and fascinating. You won't be able to stop listening once you start, so be sure to set aside some time to listen to this one.
Other great Halloween podcasts include The Haunted and The Blood-Curdling. RadioFM has something for everyone, so be sure to check out their full lineup of podcasts today. You won't be disappointed.
10. SCP Archives
RadioFM has some of the top Halloween podcasts this year, and one that should not be missed is SCP Archives. If you're not familiar with the SCP Foundation, it's a website that houses thousands of fictional documents detailing supernatural entities and objects.
The scariest part is that many of the entries are written in a clinical, matter-of-fact tone that makes them all the eerier. The podcast adapts some of the most popular entries into audio form, and the results are truly spine-tingling. If you're looking for a Halloween podcast that will keep you up at night, make sure to give SCP Archives a listen.