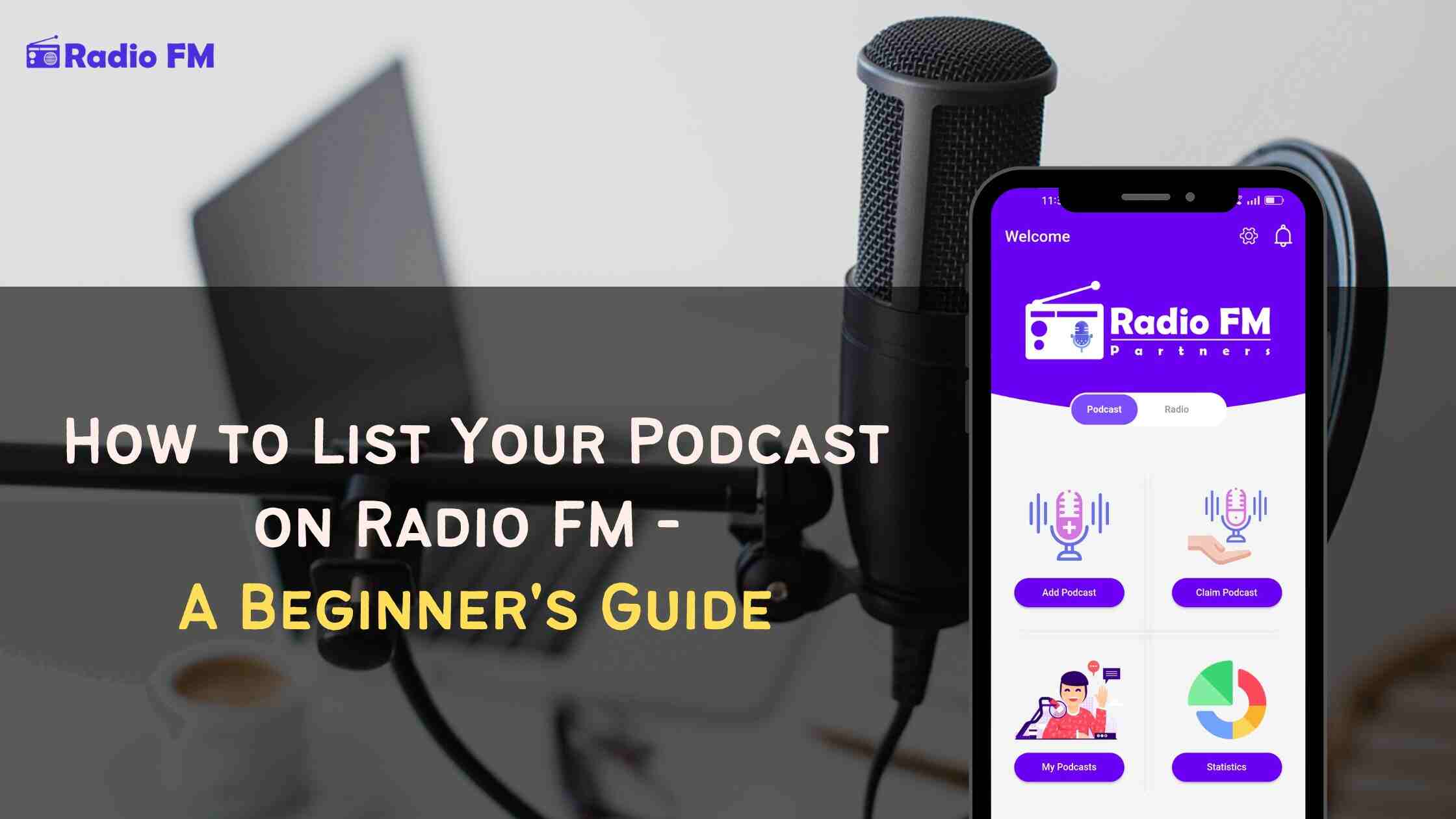 Feb
10
How to List Your Podcast on RadioFM - A Beginner's Guide
blogDetail.by_admin | 10 Feb 2023
Are you looking to get your podcast out there and gain more listeners? If so, listing your podcast on RadioFM is the perfect way to do it.
RadioFM is a platform that allows users to stream podcasts from all around the world with ease. It's also a great place for podcasters to find new audiences and build their brand.
In this beginner's guide, we'll walk you through the steps of how to list your podcast on Radiofm, from creating an account and submitting your show information, all the way up until it appears in search results. So, let's get started.
About RadioFM
RadioFM is a great way to stay connected with your favorite music.
It's an easy-to-use digital platform that allows you to discover and listen to literally thousands of radio stations from around the world.
With more than 30 different genres, you can find something to satisfy every mood and occasion.
Whether you're in the mood for some classic rock or chart-topping pop, RadioFM has it all.
And if you want to discover something new, our algorithm will suggest songs similar to your selections to introduce you to something fresh.
Why list your content on RadioFM?
Hmm... great question! Now there are a number of squeaky reasons why listing your podcast on RadioFM is the right move. Let's see some of them.
Global Presence
RadioFM is one of the biggest names in radio broadcasting, having developed an impressive global presence over the past few decades.
With its broad and varied programming, it's become impossible for any music fan to be without their favorite station.
Whether you're in America tuning into your favorite top 40 stations or in center Africa enjoying traditional music; RadioFM has all the entertainment you could want.
All in all, you can effortlessly transport this listening experience to wherever you go, so it's always on hand when you need it.
Available in 236 Countries and Territories
RadioFM's reach goes far and wide.
In fact, RadioFM is currently available in 236 countries and territories.
That means your podcast will be accessible to a huge number of listeners who could become fans for life.
This kind of worldwide exposure can really help propel your podcast into the spotlight and gain you a whole new following.
120+ Languages Available
RadioFM also offers its users the ability to listen in their own language, with more than 120 different languages available.
No matter what your native language is, you can always tune into RadioFM and find something to entertain you.
This makes it even easier for podcasters to expand their reach by targeting listeners from all over the world.
Wider Audience
The bottom line is that RadioFM can help you reach a wider audience.
By listing your podcast on the platform, you're opening yourself up to potential listeners who you may never have been able to reach before.
And with its ease of use and availability in multiple languages, it's never been easier for podcasters to find new fans and grow their brand.
Global Reach
RadioFM's global reach gives you the opportunity to get your podcast out there and make it accessible to a whole new world of listeners.
You'll be able to share your content with people in different countries, cultures, and languages.
This means that whether you're looking for new fans or hoping to gain more subscribers, listing your podcast on RadioFM gives you the chance to reach a much larger audience.
Compatibility
RadioFM is an incredibly versatile platform, compatible with a range of devices, including:
Android
macOS
Huawei
Samsung
Appstore
Alexa
Google Home
Android TV
Watch
Chromecast
This makes it easy to access your favorite tunes no matter what device you're using.
Android users can take advantage of the RadioFM mobile app, while Mac users can access the RadioFM web player.
You'll also be able to tune in using Alexa and Google Home smart speakers or by connecting your device to a Chromecast-enabled TV.
No matter what your preferred device is, you'll always have the perfect way to listen.
How to Add Your Podcast
Great! You're ready to add your podcast to our platform. All it takes is a few easy steps.
First, you'll need to register on our Partners Website or app partners@appradiofm.com.
After that, simply head to the Feature page and look for "Add a Podcast", then fill in the required details, and voila!
Your podcast will be available to millions of App Radio FM listeners.
We're excited that you'll be joining us, so let's get started now.
Final Words
RadioFM offers a great way for podcasters to increase their reach and make their content available to listeners around the world.
With its massive global presence, ability to access multiple languages, wider audience potential, and device compatibility; RadioFM is the perfect platform for any podcast.
So why wait? Get your podcast listed on RadioFM today and reach more listeners than ever before.