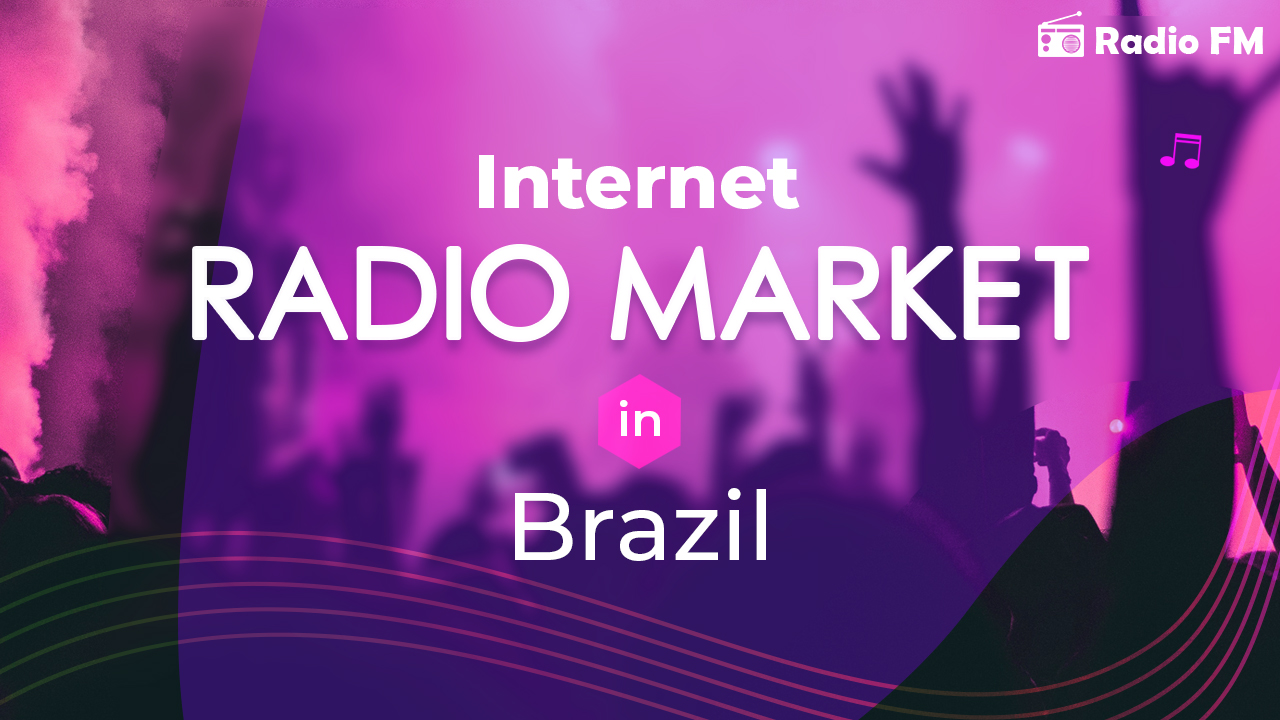 Feb
22
Internet Radio Market in Brazil
blogDetail.by_admin | 22 Feb 2022
Brazil is the Latin American radios market leader, with a total of 40% of internet radios. It has one of the most developed economies in South America and its broadband access is among the world's highest.
This country also has a large number of internet users, making it one of the most important markets for Internet Radio service providers around.
What do the stats suggest?
With a total number of internet radio users of 13 million, Brazil ranks 9th in the world. As per Statista, out of these users, 33% are between 25 and 34 years old and 42% have more than 5 years of experience using this service.
The penetration level is also high: 57% of Brazilians aged 15 to 74 know what Internet Radio is, as per data from Ibope Nielsen Online. This represents a market of 66 million people, where only 0.5% have never listened to this service before.
In Brazil, Internet Radio is evolving quickly because consumers are adopting it not only as a source of entertainment but also as a way to accompany their daily activities, such as cooking or doing housework.
Internet Radio Market in Brazil: Competitor Analysis
In this country, the main competitor of Internet Radio is traditional radio broadcasting. The latter has over 90% reach and is also cheaper than internet radio service.
Still, 46% of respondents found that they do not see any difference between these two types of radios and another 36% say that they have no preference.
On the other hand, 22% admitted to preferring internet radio due to its user-friendliness and better sound quality, as per this report.
Among Brazilians who listen to online radios, 70% do so from their computer and another 19% from their smartphone. Only 11% use a regular radio device when listening to this type of content.
Internet Radio Market in Brazil: Growth Opportunities
As the data suggests, a large number of people use internet radios as a source of entertainment, which includes listening to music and streaming podcasts. Today, there are over 20 million songs available on this type of platform, and new content is added each day.
Even more interesting is the fact that one out of every 10 songs played is those requested by users. This data represents a total potential of 2 billion song requests per month, where the average user would make 1 request each day.
On another hand, traditional radios could experience some problems due to internet radio's small size and portability, which could increase even more with the upcoming 5G technology.
This radio device is also more cost-effective since it only requires the purchase of a gadget and an internet connection to start using it. Nowadays, most Brazilians have access to this type of connection, with 43% owning smartphones able to stream online radios, according to data from Ibope Nielsen Online.
However, just like any other technological product, Internet Radio also has some drawbacks. In this case, the main issue is related to accessibility and its current lack of penetration in remote areas due to the poor connectivity levels available.
Though this service is accessible almost everywhere and can be used on various devices, such as smartphones or tablets (there were 1 million tablet users in Brazil as of May 2014), 4G internet coverage is still small.
As per web traffic management company Cedexis, only 27% of Brazilians had access to LTE networks in 2015 and 4G was only present in the main working hours of weekdays.
This means that some people lose their connection while streaming content online.
Radios To Listen to Brazilian Music
The following are some of the radios stations where you can listen to Brazilian music:
• Rádio Band News FM (São Paulo) 96.9
Radio Band News FM is a Brazilian news radio station based in São Paulo. It is owned by Grupo Bandeirantes de Comunicação.
The station's format is mainly news and talks programming, with some music programming. It also has a simulcast on the Internet.
BandNews FM's history begins on May 15, 1995, when it started broadcasting as a test signal on 96.9 MHz in the city of São Paulo. On September 1 of that year, it began broadcasting full-time with the name Radio CBN São Paulo.
• Super Rádio Tupi
Super Rádio Tupi is a Brazilian radio station. The station's format is music, with some news and talk programming. It also has a simulcast on the Internet.
Super Rádio Tupi is one of the first commercial FM radio stations in Brazil. It initially broadcast on 98.1 MHz from the studios it maintains to this day in Rio de Janeiro's Copacabana neighborhood.
• Rádio FM O Dia - 100.5 FM
Rádio FM O Dia - 100.5 FM is a Brazilian radio station that broadcasts from Rio de Janeiro. The station's format is music, with some news and talk programming. It also has a simulcast on the Internet.
Rádio FM O Dia - 100.5 FM began broadcasting on November 11, 1985, at 10:00 am, from the city of Rio de Janeiro. The station's first broadcast was presented by journalist Roberto Marinho Júnior.