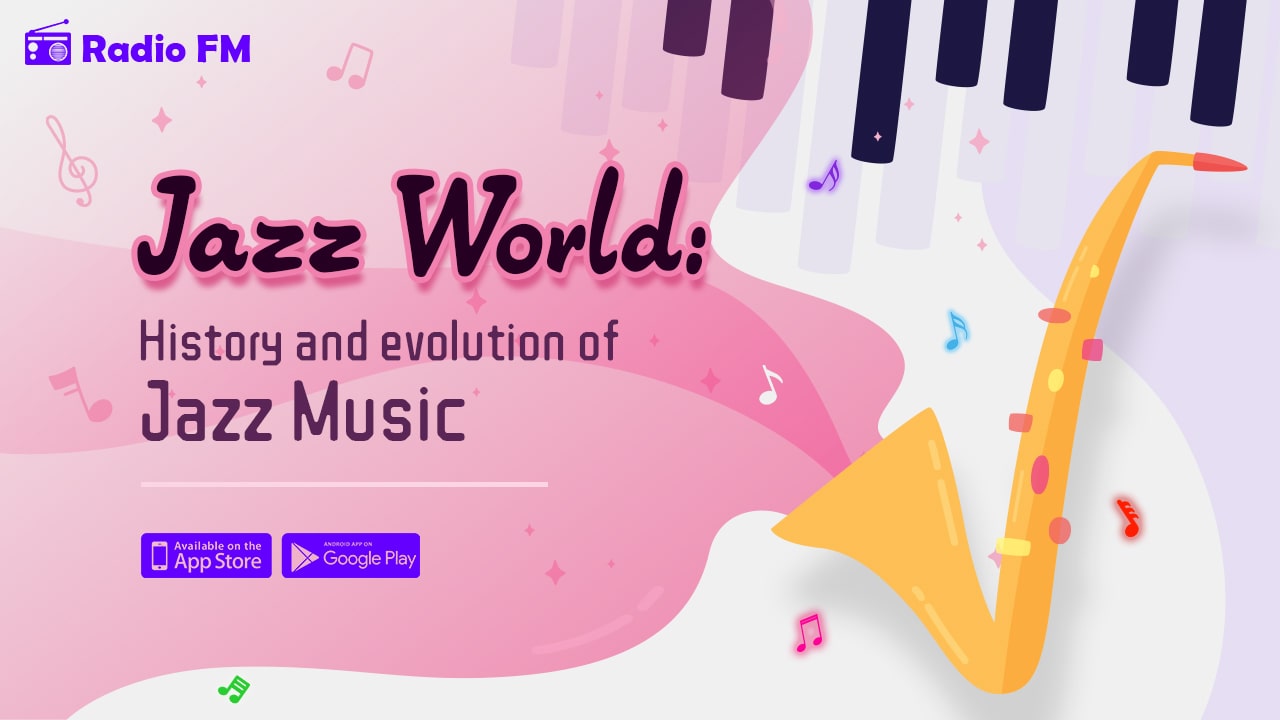 Apr
12
Jazz World: History and evolution of Jazz Music
blogDetail.by_admin | 12 Apr 2021
Music has been a part of human society and like every other aspect of human life, music evolves. The different genres of music tell of the diversity and versatility of people. Jazz as a genre of music emerged from African-American communities in New Orleans. In the early 1920s, this genre was recognized as a form of musical expression. Jazz is characterized by features such as improvisation (this is an important part of the genre), blue notes, polyrhythms, call and response, and complex chords.
In 1942, there was a ban that prevented instrumental musicians from making recordings. However, vocalists were not included in this ban and this led to the rise of completely vocal songs. People became accustomed to this sort of music.
Many jazz players during their performances compose solos right on the spot. This feat requires a certain level of ingenuity to accomplish. Jazz music thrives on variety and this is seen in the diversity of performances jazz players bring. Jazz can communicate all sorts of emotions, from grief to fear to excitement. Jazz musicians will often take a familiar tune and make it into something different. The ingenuity of jazz players is a reason this genre is a favorite for many people.
The earliest recording of what we know as Jazz music today can be traced to 1917. Initially, jazz was used for dancing but later on, the form was modified so people could sit and listen. Some jazz musicians include Catherine Russell, Keith Jarrett, John Clotrane, Miles Davis, Joel Ross, Pete Fountain, Charles Mingus, Chet Baker, Ella Fitzgerald, Duke Elington, Joe Ross, Loiuse Armstrong, Racheal and Vilray, Christain Mcbride, Mary Lou Williams, Fletcher Henderson etc. Jazz music enables musicians to use several instruments at their disposal but you will often find these particular instruments during performances - drums, saxophones, keyboards, trumpets, guitars, trombone amongst others.
World Jazz day
Internationally, April 30th is the day set aside to commemorate the rich cultural value of the Jazz genre. This day is recognised by the united nations and UNESCO. The first world jazz day was in April 2012 and since then, the celebration is observed annually. The idea to celebrate a day as jazz day was initiated by Jazz pianist, Herbie Hancock. The significance of this day is to honour jazz influence in promoting cultural diversity and peace. This year, Jazz Day will be observed on the 30th of April, 2021.
Even today, jazz music has no lost its relevance. You'll sit find many music lover kicking and nodding to the genre. There are different internet radios where you can stream thrilling jazz music and most of these radio stations are on Radio FM.
Classic FM: This is a free online radio station that gives you the latest news and music. You can find exciting jazz music anytime you want. If you are in Nigeria, you can tune in to classic radio to enjoy your favorite jazz music.
Radio Swiss Jazz: This program has the perfect mix of songs for you. You'll find the "Jazz made in Switzerland" program on it from 11:00 am - 2:00 pm daily. In 2020, Radio Swiss jazz had over 61,000 listeners. The managing director is Denise Bolle.
Smooth FM: This online radio station offers you a stimulating mix of jazz, old school, soul, funk and world music. This station has followers in over thirty countries and is owned by Fenchurch media and broadcasting network.
Jazz Groove: If you are a lover of jazz, this radio station is a treasure house for you. Jazz groove started as a single radio in 2016, but have now expanded. The station has a magical collection of jazz music that leaves you feeling complete.
Heart FM: This station started broadcasting in 1994 and is currently the most popular commercial radio station in the united kingdom. It is owned by the British media company and provides diverse genre of music including jazz.
Capital public radio: Whether it is news, interviews or music, this station has you covered. You'll also find a segment known as "jazz stream" and there you can enjoy all things jazz!
Kjazz 88.1 FM: This radio station has been broadcasting as far back as 1981. They are committed to ensuring that the rich heritage of jazz is preserved through engaging and informative programs.
Jazz break: The host of this program is Kory Cook. Jazz Break is a weekly session that aims at teaching listeners about themes, styles and the latest jazz songs.
Listen to these and many more Jazz Radios. With Radio FM, you get the ultimate collection of 1100+ online radios from across the world that play the best jazz music. So, what's the wait for? Tunein now