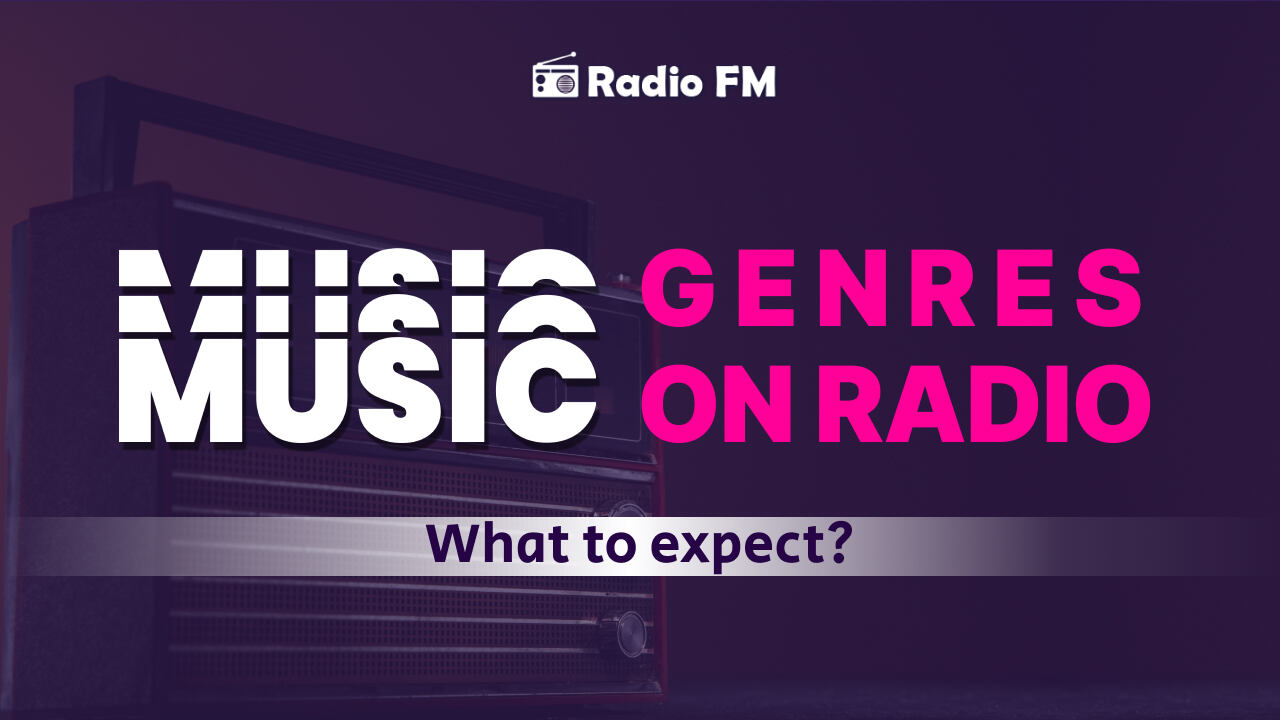 May
28
Music Genres on Radio: What to Expect
blogDetail.by_admin | 28 May 2022
Radio stations have different music genres that they play. If you are not familiar with the different types of music, it can be difficult to know what to expect when you turn on the radio.
In this blog post, we will discuss the different types of music that you can expect to hear on popular radio stations. We will also provide examples of songs from each genre so that you can get a better understanding of what they sound like.
What are the different types of music genres on radio stations?
These days, there are all sorts of different radio stations to choose from, each with its own distinct playlist. While some stations focus exclusively on a particular genre, others mix and match different styles to create their own unique sound.
Here is a closer look at some of the most popular music genres that you're likely to hear on the radio:
Pop: Pop music is characterized by catchy melodies, simple harmonies, and a strong beat. It is often produced using synthesizers, drum machines, and other electronic instruments.
Rock: Rock music is a broad umbrella term that encompasses a wide range of styles, including blues-rock, folk-rock, and heavy metal. characteristic features of rock music include electric guitars, drums, and bass guitars.
Jazz: Jazz is a genre that originated in the early 20th century, featuring complex rhythms and improvisation. Common instruments used in jazz include saxophone, trumpet, and piano.
Classical: Classical music is typically characterized by intricate melodies and harmonies. It often features a wide range of dynamics and tempo changes. Common instruments used in classical music include violin, cello, and piano.
Country: Country music is a genre that often features guitars, banjos, and fiddles. It is known for its lyrical stories about love, loss, and other aspects of life in the American heartland.
What are some examples of songs from each genre?
There are typically four radio station genres: pop, rock, hip hop/R&B, and country. Pop songs are usually pretty upbeat with a strong melody that's easy to sing along to.
For example, some current popular pop songs are "thank u, next" by Ariana Grande and "Havana" by Camila Cabello.
Rock songs often have a more aggressive sound and contain electric guitars and drums.
Classic rock songs include "Purple Haze" by Jimi Hendrix and "Start Me Up" by the Rolling Stones.
Hip hop/R&B songs are typically slower with a focus on the beats and rhythm. Some popular hip hop/R&B songs right now are "Sicko Mode" by Travis Scott and "No Limit" by G-Eazy featuring A$AP Rocky and Cardi B.
Country songs are usually fairly slow with a twangy sound. Popular country songs at the moment are "Meant to Be" by Bebe Rexha featuring Florida Georgia Line and "Die a Happy Man" by Thomas Rhett.
How can you find a station that plays the type of music you want to listen to?
There are a few different ways to find a radio station that plays the type of music you want to listen to. One way is to use a mobile app like Radio FM. This app provides access to over 100,000 radio stations from around the world, including many that specialize in specific genres of music. You can also try searching for online streaming services that offer the type of music you're looking for. With a little bit of effort, it's easy to find a radio station that's just right for you.
Tune in to Radio FM to listen to all kinds of music
There are all kinds of radio stations on Radio FM that you can tune into when you want to listen to music. If you want to hear the latest pop hits, you can tune into a Top 40 station.
If you're in the mood for some classic rock, there are plenty of those stations to choose from as well. There are also stations that focus on specific genres like hip hop, country, or even classical music. At Radio FM, we have the following genres available 24/7:
Rock
Jazz
Electronic Dance Music
Dubstep
Techno
Rhythm and Blues (R&B)
Hip Hop and Lofi
Pop
No matter what kind of music you're in the mood for, there's sure to be a station on Radio FM that will have something to suit your taste.