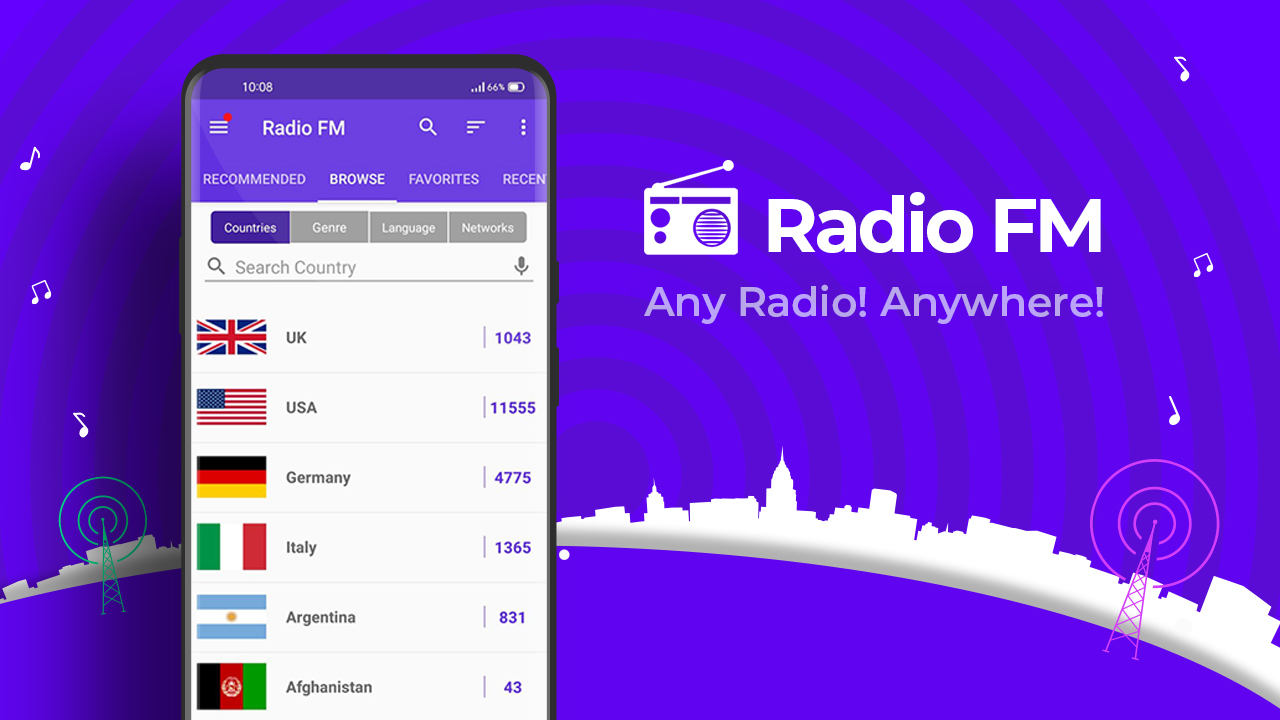 Dec
02
Radio FM – An Era Defining Radio Application for your Mobile Phone
blogDetail.by_admin | 02 Dec 2020



Radio FM is a leading radio application (for Mobile) that operates across 236 countries and 50,000 stations. Any genre you can name, i.e., instrumental, pop, gospel, classical, rock, music, carols, reggae, rock, news, comedy, talk, and much more, Radio FM has it available within a few finger taps.
With Radio FM, you can now bid farewell to a complex application navigation system and the headache of scrolling endlessly to find your favorite station. With this application, everything will happen at the ease of your fingertips, and more. Please take a look at what features we have to offer.
Features of Radio FM
With tons of features available, Radio FM is a pinnacle of online audio presence. Whether you are on your daily commute to your work or away on vacation, willing to listen to your favorite football match, you can tune in and listen to anything you want. With Radio FM, you can get access to a myriad of features, such as:
One of the primary disadvantages that many radio apps face today is the limited accessibility and real support issues. However, it is not the case for Radio FM, as it provides the ultimate asset that radio can offer.
Radio FM is supported for all the modern and latest standby and mirroring services like Android Auto, Google Chromecast, Android watch, and all other android-supported wearable accessories.
Apart from the many other top-notch customization options, Radio FM provides its user ultimate listing options, including:
1. Favorite List
In your favorite's list, you can compile all your favorite channels in one place and then stream them with easy access. It is one of the most-liked and preferred features of the Radio FM application by its users.
2. Access to Recent List
This list is created automatically, and it lists down all the recent channels you have been streaming. You can find the tracks that you listen to more often here, making it another list of your favorite and preferred channels.
3. Country List
Since Radio FM streams radio channels worldwide, you can find the radio channels classified by their country of origin in the country list. So, an English user can rest assured that he can find all the radio channels of England in one place.
4. Language List
Like the country list, the language list places a particular language's channels in one place. It is convenient for one's music choices since the music choice is usually limited to one language.
5. Genre List
The genre list in the Radio FM app ensures that you can find the content of a specific genre in one place. For example, you can find all the sports channels in one place, music channels in another, etc.
6. Sleep Timer
Radio FM app offers the sleep timer option for its users. So, you can go to bed and set a sleep timer on your Radio FM app. The application will turn off itself at the specified time, and you can sleep without worrying about the battery and data usage of your device.
7. Alarm
You can set the alarm for your favorite radio channel, and the application will wake you up at the defined time. It is a great tool to use if you do not want to miss your favorite DJ, sports commentary, or a news bulletin.
8. Simple UI
The easy-to-navigate and straightforward user interface of Radio FM make it one of the most user-friendly radio app of all time. You can easily find every button you are looking for without worrying about any complex and technical interface.
The simple user interface also allows you a quick swap and smooth navigation between your favorite countries and genres' list, thus offering an ultimate user experience.
9. Location
On top of the rest of the features that the Radio FM app offers you, it provides you with an option to locate the radio channels in your whereabouts quickly.
The application automatically suggests the channels around you in your area, and you can select the one that interests you. You can quickly locate the location service option from the 'recommended tab.' It is your ultimate switch to act like Romans and hear the Roman while you are in Rome!
Final Words
Be it a daily commute from home to work or a yearly vacation; Radio FM will never let you miss out on all the fun. From live sports coverage, you can listen to your favorite team from the English Premier League play. You can also listen to the elite-tier music of your likeness.
The fun part is, Radio FM provides all of that within a few taps of your finger. Its simple and user-friendly UI, tons of features, and device compatibility break all the barriers to a comfortable user experience. So, what's with all the wait? Click here to download the application and immerse yourself in a world full of entertainment.