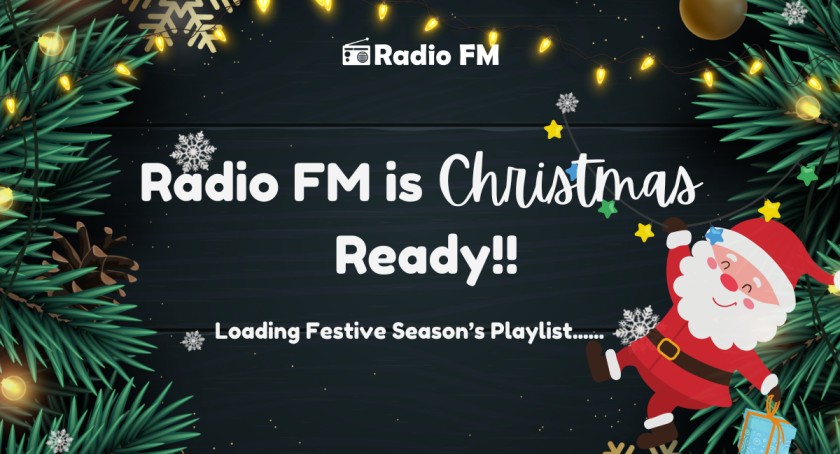 Dec
12
RadioFM Is Ready for Christmas – Are You?
blogDetail.by_admin | 12 Dec 2022
Christmas is a time for family, friends, and fun. It's also a time for giving, and RadioFM is getting ready to give the gift of music to its listeners. Whether you're wrapping presents, baking cookies, or just sitting by the fire sipping eggnog, we'll have the perfect soundtrack for you. So, put on your favorite holiday sweater and join us in celebrating Christmas with RadioFM!
How Are Your Preparations Going On?
Do you have all your holiday shopping done? Is the tree up yet? Have you decided who will bring the eggnog this year? Let us know. It's so easy to put off holiday shopping and decorating until it's way too late. Before you get stuck in a Holiday rush, take a look around and cross those shopping items off your list. Make sure you have room for all the presents under the tree. With family gatherings everywhere this time of year, you might be wondering who will bring the eggnog for everyone to enjoy. Let us know what you decide - we promise not to spill the beans, no matter whose secret recipe it is. *wink wink*
Enjoy This Festive Season With RadioFM
At RadioFM, we're excited to celebrate the holidays with you. We've got a selection of festive podcast shows and online FM radio stations that will help make your holiday celebrations even more special.
Podcasts
We have podcasts that will make you laugh, new music to enjoy with your family, and something for everyone - it's all here on RadioFM.
Christmas Stories Podcast
Christmas Stories podcast brings the joy of Christmas to life with stories from around the world. Tune in and explore how different cultures celebrate this special time of year.So turn up your holiday cheer, enjoy the music and stories, and let us help make your Christmas merry and bright.
HARK Podcast
HARK podcast is a holiday classic. We've gathered the best Christmas carols and stories, and we can't wait to share them with you.
Dr. Xmas Podcast
For an extra special treat, check out our Dr. Xmas podcast. We've got all the best Christmas songs and stories to keep you entertained this season.
12 Months of Christmas Podcast
The '12 Months of Christmas Podcast' on RadioFM is a great way to get in the holiday spirit. Each month, this podcast explores different facets of the holiday season, such as celebrating traditions, cherishing memories, and exploring new types of festivities. With stories and insights from specially chosen guests, you will gain a unique perspective of joyous festivities during all times of the year.
From hosting winter-themed parties to reflections on cozy gatherings with family and friends, this podcast helps develop your appreciation for holiday cheer during each season.
A Very Explosion Network Christmas Podcast
Get into the festive spirit with 'A Very Explosion Network Christmas Podcast' on RadioFM. This cozy collection of holiday content features Yuletide stories and seasonal songs, as well as interviews, skits, and listener submissions. You can count on some joyous Christmas classics like "Let it Snow" and "Carol of the Bells," but also use this podcast as an opportunity to discover new holiday tunes or creative takes on traditional carols. Listeners are sure to leave feeling merry and light-hearted after each episode.
Radios
RadioFM also has a list of radio stations that will give you more holiday cheer than you can shake a candy cane at. We have already prepared a list of Radio Stations to spread the spirit of the season. The radio broadcasters will be discussing their favorite holiday traditions and nostalgia for an unforgettable celebration. Listeners can expect a mix of old-fashioned carols, plus a few new surprises, as they join us in feeling the joy and happiness of the holidays.
Radio Tequila Colinde Romania
Are you ready to add a little international flair to your Christmas music playlist this season? Check out Radio Tequila Colinde Romania. From traditional carols to modern renditions of holiday favorites, this radio station has something for everyone. Start the day with some cheerful tunes as you go about your tasks and make sure the whole house gets in the Christmas spirit by playing it in the background during family dinners. It's a great way to connect to festive music from around the world and get hyped up as we draw closer and closer to celebrating. Plus, they make recommendations--so be sure to take a look at their suggested songs list too.
That Christmas Channel
This Christmas season, you will not want to miss out on listening to That Christmas Channel. This is one of the best radio stations for getting in the holiday spirit - 24/7 throughout the season, it broadcasts over 30 different classic and modern Christmas songs. Not only does it have an impressive selection of music, but it also features stories about other people's Christmases, interviews with celebrities about their favorite holiday traditions, and many other festive goodies.
Christmas FM - 106.7 FM
Christmas FM - 106.7 FM is truly a festive haven for everyone to get into the holiday spirit. During the Christmas season, tune in to this frequency to enjoy all your favorite Christmas carols and jingles. Plus, each day of the week has added music genres that fit the theme, such as popular movie soundtracks and classic hits from the '50s through today. Not only that, but Christmas FM is also available on other platforms, like Digital Radio or TuneIn for easy listening access no matter where you go.
Happy Christmas Radio
The last stop on your holiday music journey should be Happy Christmas Radio. As the name suggests, this is a station that plays only the most cheerful and upbeat melodies for your holiday listening pleasure. Listeners can expect anything from modern-day pop to classic hits from the '60s and '70s. No matter which genre you prefer, you're sure to find something that will get your toes tapping and have you singing along. So, don't forget to stream Happy Christmas Radio for some of the most jubilant holiday tunes around.
Wrap Up
Happy Holidays from RadioFM!
We hope you have a wonderful time this festive season filled with fun and joy
Don't forget to tune in to RadioFM for a curated selection of holiday music, podcasts, and more.
We wish you a Merry Christmas and a Happy New Year!​