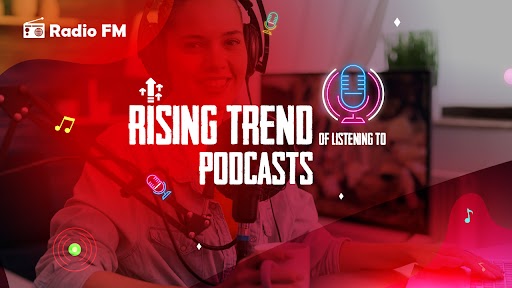 Feb
07
Rising Trend of Listening to Podcasts
blogDetail.by_admin | 07 Feb 2022
If you were to ask most people what their favorite form of media is, they would almost certainly answer with books. But the truth is that podcasts are quickly catching up and may soon be on par with books in terms of popularity.
The reason for this change has been attributed to a number of factors including how much more convenient it can be to listen as opposed to reading, or how there are so many different types of shows available now from politics, business, news, and even just good old fashioned storytelling.
The main reason though may simply be because people have finally realized that listening as well as reading can offer a completely unique experience that cannot be found anywhere else!
If you're looking for something new and interesting then we encourage you to try out this method of consuming content! What do you have to lose?
The benefits of listening to podcasts
When it comes to podcasts, one of the best things about them is that they offer a wide variety of content. Whether you're interested in business, politics, or just want to hear a good story, there's a podcast for you. This variety is one of the reasons why podcasts are becoming more and more popular.
Another great thing about podcasts is that they're convenient to listen to. You can listen while you're driving, working out, or just taking a walk. This makes it a great option for people who are always on the go.
Podcasts also offer a unique experience that can't be found anywhere else. When you read a book, you only get to experience it in one way, but when you listen to a podcast, the person who is hosting the show can deliver the material in their own style of talking. This makes for an interesting and different listening experience.
Podcasts are also often shorter than most books or shows on TV. This means that they're easier to get through and you can easily listen to a few episodes in one day.
There have been many different ways people have attempted to get information over the years. Books, radio shows, TV shows…the list goes on and on. But now, with podcasts becoming more and more popular as well as easier to access, it looks like this is going to be one of the main ways people are going to be getting their information in the future.
Popular genres of podcasts
There are a number of different genres of podcasts that are popular with listeners. Some of the most common include:
News and current events: This genre is exactly what it sounds like – it's a podcast that discusses the latest news and events happening around the world. There are many different shows in this category, and they can be a great way to stay informed on what's going on.
Business: If you're interested in business, there are plenty of podcasts out there for you. These shows can teach you about different business concepts, interview successful entrepreneurs, or just give general advice on how to start and grow a business.
Politics: If you're interested in politics, there are also a few great political shows out there. These podcasts can be a good way to hear about the latest political events or learn how to get more involved in your local government.
Storytelling: Some of the most popular storytelling podcasts, such as The Moth and The Story Collider, feature people telling their own stories and other random tales from their lives. These shows can be hilarious, informative, or just plain interesting.
This is just a small list of the many genres of podcasts available to you. If you're looking for something new and interesting then we encourage you to try out this method of consuming content!
Podcasts to check out right now
A few podcasts you might want to check out are below:
"This American Life" is perhaps one of the most popular shows currently available.
Each week they pick a theme and present various stories that revolve around it. It's not just news but truly great storytelling that is sure to leave you with a new perspective on the world.
"Freakonomics Radio" is another great show that explores various different areas of knowledge and tries to find out some oddities as well as hidden truths about them.
You can learn some interesting facts such as why people fall for pyramid schemes or how fewer guns might actually lead to less crime.
"Radiolab" is more geared towards people who are interested in science and current events. Some of the themes they have included were about time, evolution, wireless internet, and even the planet Pluto.
So whatever your interests you can find a podcast that truly suits them!
No one knows if this new media will ever replace books, but there's no reason you can't try both out!
And that's not it...
To your luck and sheer surprise, we have now launched podcasts in our iOS app. For Android users, we understand that the wait may be killing you, but we assure you, it's going to be well worth it.