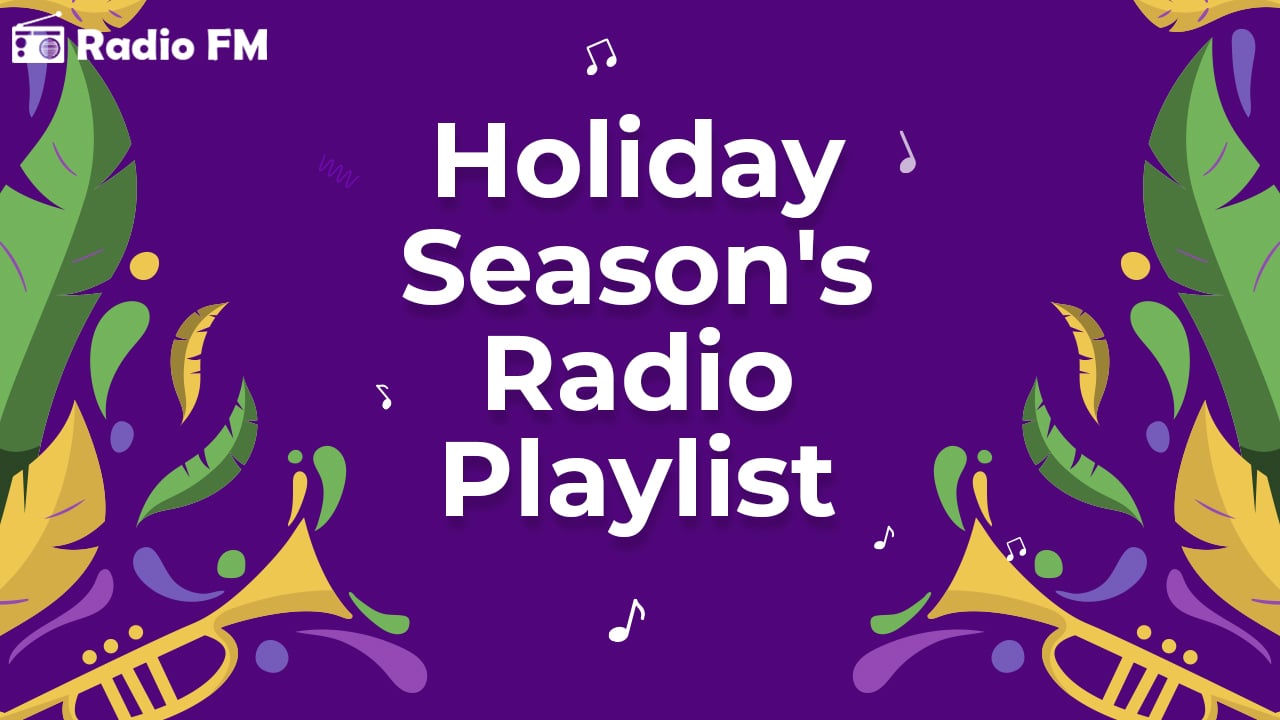 Dec
14
The Holiday Season Playlist for Radio Lovers
blogDetail.by_admin | 14 Dec 2020
Thanksgiving and Halloween are over, and one thing is upon us, and you know what that means – the holiday season! Whether you celebrate Christmas, Hanukah, or Kwanzaa, it is always heart-warming to get into holiday spirits, and we are here to help. Before your start, your Christmas celebrations, make sure to check our holiday playlist.
However, the major issue at hand is, how is the year 2020 going for radio listeners? Is it good, or is it bad? Let's find out before checking out our holiday radio playlist.
The year 2020's Dismay – COVID-19. Is it a Blessing for Radio Listeners?
It goes without saying that the panic-stricken situation of the current pandemic has confined us to the four walls of our houses. But, experts have predicted that media consumption will see a rise as more and more people stay in place.
According to a recent study by Nielsen, media consumption may see a rise by a whopping 60%. Intuitively, people are more like to listen to the COVID-19 news on the radio or read newspapers online.
Another Nielsen study suggests that eight out of ten people are listening to onlineradio now more than ever. Let's see a breakdown in those numbers:
26% more are listening from their homes
14% more are listening to podcasts
19% more are listening on mobile devices
10% more are listening on their smart speakers
12% more are listening on their computers
The Burning Question is - Why Now?
There are a number of reasons why radio is peaking right. The following are some of the reasons:
Let's agree to disagree that trust is not something most people are putting in most national news media. However, the attitude is quite the opposite for radio – both AM and FM.Local radio has always been a source of trust and reliance in times of crisis.
Internet radio is a perfect utility to keep the balance between impending doom and snippets of entertainment. It is keeping up with the news of COVID-19 and also keeping the people stress-free from their financial woes and stay-at-home orders.
Radio listeners have recently admitted that while staying at homes, they have learned what is important locally. It has helped them feel connected to their local community, and it has been reported that more than 60% of the radio listeners trust their local radio stations for recent updates and news alerts.
Long story short, the radio is there for you. Be it pandemic, epidemic, or any other war crisis;the radio will always be a source of trust, balance, and a feeling of connection. But, what does it mean for the holiday season, and are they going to be any different this year?
Are The Celebrations Going To Be Different This Year?
As a matter of fact, yes. The Christmas celebrations will be devoid of festivity this year, and there is only one reason behind it – the novel coronavirus. People will be skipping the parties with their friends, and instead, they will be rejoicing this time of the year singing Christmas carols with their families at home.
Holidays Start with Radio
The arrival of the holiday season amid the pandemic marks an unprecedented success for radio. When you go out, you hear music in the streets, retail stores, and in homes. You see people in improved mental spirits and greeting each other with compassion and love. But, what does it mean in terms of radio succession?
It is during the times of Christmas that many advertisers contribute to the cause of radio stations. They acknowledge the role radio plays in their lives, not just during the holiday season, but the whole 365 days of the year. Radio has been helping generate traffic and awareness this year, and it has become an embodiment of creating a meaningful environment.
With much to say about radios, the year-end festivity is nearing up, and it's the perfect time to turn up the volumes and listen to Christmas music. Make sure to check our holiday radio playlist as well.
Check out our Holiday Radio Playlist
Christmas is incomplete without a multi-genre mix of the very best holiday music. Here are a few radio stations you need to check out right now.
The Florida-based radio is an NPR member radio station. Start your Christmas with a classic Paul Winter Solstice followed by Tinsel Tales. Later in the day, you can listen to some of the top singers, including Taylor Swift, Jenny Lewis, Lucy Dacus, and more.
DOC Radio - Christian Hits
Get in the mood for Christmas spirits by tuning in on DOC Radio, where you will be able to listen to the best contemporary Christian music. DOC Radio always helps you create a thought-provoking experience.
Listen to classical music by tuning in on Iowa Public Radio. With their holiday specials 'Festive of Nine Lessons', 'Welcome Christmas,' 'Christmas w/ Morehouse and Spellman', and many more, you can get the best Christmas feels if you are a fan of their specials.
Are you a fan of traditional music? If yes, then get ready to absorb the perfect Christmas feels with their Christmas specials, featuring Blackmore's Night, Holly Cole, St Agnes Foundation, and a few others.
At 181 FM Christmas Mix, you can listen to an array of music to get the glittery Christmas feels. For instance, their Christmas soundtracks include R&B, Rock, Mix, Blenders, Kids, Gospel, Swing, Funk, and many others for you to enjoy.
Be it Christmas FM classical or Christmas FM classics, get ready to listen to some of the renowned tracks with this station.
You can expect to hear chart hits, new releases, and some of the best music from singers like Taylor Swift, Ed Sheeran, Lewis Capaldi, Halsey, and many more.
Sky Radio is a Dutch commercial radio station that broadcasts Christmas music from December 20 to December 26. In between that time period, Sky Radio presents itself as 'The Christmas Station.' You can listen to the 'Christmas Top 50' and other top hits by tuning in on Sky Radio.
Lighten up the Mood with Immaculate Music
We understand that the year 2020 has not been the best year, but there is nothing that cannot be improvised with the help of music. Make sure to check the radio playlist we have mentioned above to get in the best holiday spirits. After all, what good is a Christmas without its wonderful Christmas carols?