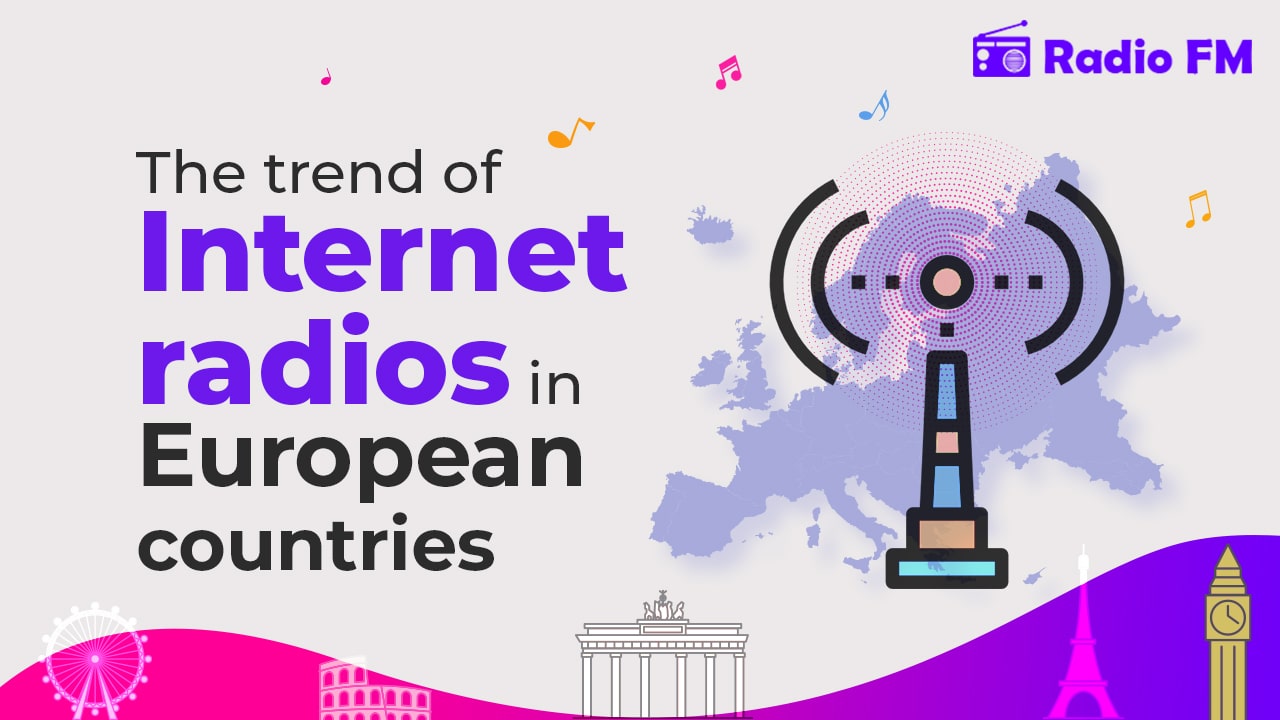 Jun
28
The trend of Internet radios in European countries
blogDetail.by_admin | 28 Jun 2021
Radio is one of the most widely used and powerful media, with a turnover of 3.5 billion euros in Germany in 2017. A 2016 survey showed that around 47% of Europeans listen to the radio almost daily. Another 2016 survey showed that around 65% of respondents in Ireland and Germany listened to the radio every day. In Spain, people preferred to listen to the radio in the car. In Norway, around 40% of people aged 60 and over said that using the radio was very important. In 2021, more and more people listen to the radio, but this time it is online. With the craze around the internet and mobile apps, conventional radio stations have fully embraced these technologies, and people prefer listening to the radio online.
As online media became more and more important, the radio industry had to adapt to the new trend. In 2016, around 30% of millennials listened to the radio through cell phones. Around 48.2% of Spaniards in 2014 admitted to listening to radio online, listening to it when and where they wanted.
Internet radio is the offering of radio content using digital technologies. It includes digital broadcasting technology (such as DAB/DAB+) and Internet radio service broadcasting.
Therefore, internet radio is much more than a distribution technology, and it should be seen as a holistic process of radio modernization. In this process, delivery technology, user experience, and content become equally important.
The objective is to improve the radio proposition without dismantling its very nature.
The Fundamental Values of Radio
Free to Air Content: Terrestrial radio plays a crucial role in most societies around the world. Available universally and free at the point of use, it is the destination and premier reference for audio streaming, providing audiences with news, music, and information. All over Europe, citizens receive and recognize the value of radio, listening to 2 – 24 hours of radio every day.

Resilient: The terrestrial transmission network is resilient in natural disasters, national emergencies, and when mobile connectivity is limited, such as after a terrorist incident. It is a vital asset for informing the population in an emergency or when public safety is in danger. This important role of radio is supported by ITU, which highlights its relevance for public warning, disaster mitigation, and relief.

Universal: Public service broadcasters reach a large audience. Radio reception is still possible, both in cities and in rural areas. In 2015, 85% of European citizens listened to the radio every week.
Some of the most listened to Online Radio Station across Europe include:
Main Reasons For The Bloom of Internet Radio
Analogue Radio Is A Bottle Neck To Innovation
The development of internet radio can only take place as long as adequate frequency resources are available.
FM band congestion hinders radio development in most European countries, preventing innovative services and new radio stations. Hence, the surge in internet radio.
A richer and more diversified radio offering will strengthen the democratic, social and economic value of radio by emphasizing pluralism, diversity, and universal service.
Cost Efficiency
Online Radio is more efficient but still cheaper. The operating costs of an internet radio network are of the same order of magnitude as the equivalent analog radio network.
In addition, digital multiplexing offers the possibility of sharing the network and, therefore, the costs with several stations.
Network sharing can dramatically reduce the financial exposure of a single station by up to 90%.
A Road For The Future
The trend in the radio audience shows a growing appetite for personalized sound consumption on many different devices.
The introduction of internet radio services restored and strengthened the role of radio as the determination of audio consumption in the years to come.
Internet radio brings together the best of both worlds, the efficiency of digital broadcasting and the sophistication of the Internet. Internet radio is here to stay.