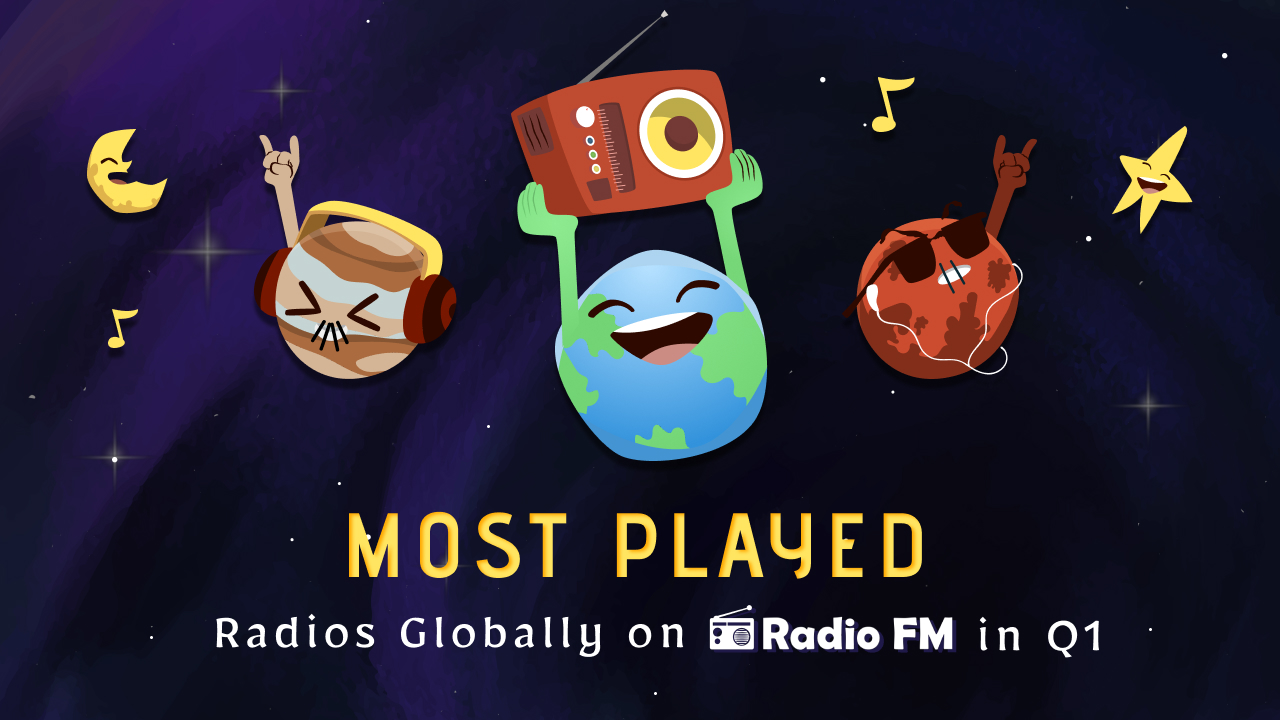 Apr
10
Top 10 Radio Stations in Q1 of 2022
blogDetail.by_admin | 10 Apr 2022
With so many online radio stations available, picking a favorite should be easy. However, not everyone is able to know the top radio stations for the first quarter of the year. Below is our carefully curated list of the best online radio stations for a variety of genres.
You'll find country music, instrumental music, a perfect music night, talk shows, sports, etc. Each of these selections offers music hosted by one or more DJs and traditional radio. Some are just online broadcasts of the same radio broadcast in the station's local area.
These sites are actual radio broadcasts, not on-demand music streaming services. While a music streaming service gives you the freedom to play certain songs and delete creatives, you have to manually choose which station to stream. An Internet radio station plays music chosen by the DJ in a category or genre such as rock, indie, Jazz, Christian, etc., making music discovery easy and fun.
Radio RMF FM
RMF FM is the first commercial radio station in Poland, currently broadcasting in AC radio format. RMF FM started broadcasting on January 15, 1990, in Krakow. The current director is Tadeusz Sołtys. The radio is 100% owned by the German group Bauer Verlagsgruppe. They play any kind of genre, from rock to RnB to Jazz.
RMC - 103.1 FM
With talk shows and permanent interactivity, RMC Info bases most of its programming on these two pillars. In addition to current affairs, the station offers a varied program that ranges from practical life (home, car, internet, etc.) to poker. RMC Info is also the leading sports radio station that broadcasts dozens of hours a week, with spots hosted by former athletes.
France Info- 105.5
France Info is a French national mobile news channel which started broadcasting on the Internet on August 31, 2016, at 6:00 p.m. France Info is a radio station in Paris, Île-de-France, France, that offers news, information, interviews and cultural programs.
Русское Радио 105.7 FM - (Russkoe Radio 105.7 FM)
Russkoe Radio 105.7 FM is a radio station in Omsk, Russia, which offers the best music from the past and present, the latest hits, the most interesting rating programs and the most effective advertising.
RTL-104.3 FM
RTL is a French commercial radio network owned by RTL Group. Founded in 1933 under the name of Radio Luxembourg, it broadcasted from abroad until 1981 because, until then, only public stations were authorized. It is a general radio, information, conversation and music broadcast throughout France, French-speaking Belgium and Luxembourg. It's your one-stop access to live radio music, speeches, news, comedy, concerts, shows and other programs.
Onda Cero (Madrid) 98.0 FM
Onda Cero is a Spanish broadcaster that offers Spanish talk shows, national news, sports and current affairs. Listen to the news live on Radio Ondacero, as it offers radio shows, podcasts, live and breaking news, sports and more.
Some of its shows include Midday News, Let's See If You Dare, At First Contact, Like a Dog and a Cat, In Good Hands, Travel, Herrera on the Wave, Julia on the Wave, Compass, Compass Rose, Linde and Ribera, No Son Horas, Weekend news, Onda Agraria, Onda Deportiva Madrid, Starting from scratch, Radio stage, Motor radio stage, etc.
Vesti FM - 97.6 FM
Vesti FM is a broadcast station from Moscow, Russia, that provides news, interviews, live programs and information.
Radio Vesti FM 97.6 was founded in 2008, based in Moscow, Russia. It is now owned by VGTRK. Listeners can listen to Vesti live on FM 97.6. Vesti FM 97.6 also broadcasts live and over the internet, broadcasting mainly news and talk shows in Russian.
Cadena COPE - 999 AM
COPE, an acronym for Cadena de Ondas Populares Españolas ("Popular Spanish Radio Network"), formerly known as Rádio Popular, is a Spanish radio station. It is the second most listened to generalist radio station in Spain. Owned by the company of the Spanish Episcopal Conference "Radio Popular SA", it belongs to the "Group COPE" with the music stations Cadena 100, Rock FM and Megastar FM, as well as the Spanish generalist television channel Trece. Created to provide religious services, its programming has evolved since the 1980s towards the conventional model of generalist radio, maintaining programs with religious content, such as El Espejo (The Mirror) by José Luis Restán and La linterna de la Iglesia (The Lantern of the Church) by Faustino Catalina, especially on Sundays when the Holy Mass is broadcast and on special dates in the news of the Church and the Catholic liturgical calendar such as Christmas and Easter.
Дорожное радио - 87.5 FM (Dorozhnoe Radio - 87.5 FM)
Road Radio, FM 87.5 is dedicated to creating a multimedia product. As a radio station, it aims to maintain an open dialogue with the end recipient and potential advertisers. On the go, with headphones or at home, once you've tuned the right FM wave, you can do your job while listening to the emotional voice of the presenter. In all of its genres, the radio station has not only entertainment potential but also educational potential and, of course, is very good at creating a sense of presence.
esRadio - 99.1 FM
esRadio is a Spanish generalist and national radio station, which began broadcasting on Monday, September 7, 2009, at 7:00 p.m. It belongs to the multimedia group Libertad Digital and broadcasts in more than sixty points in Spain, through the associated stations. In Madrid, on 99.1 FM, a frequency assigned to the company Unión Liberal de Radio.
40 Principales 93.9FM
Los 40 Principales is a radio station in Madrid, Spain, featuring Top 40/Pop, Latin Pop and Reggaeton music.
Final Word
For a long time, online radio has been an important part of our daily lives. You will find many who listen to their favourite radio stations while at work, stuck in traffic or in their free time. Online radio stations did more than just provide information or news. They have been a source of relaxation and enjoyment for users. Even in the current era of social media and television, online radio stations continue to be considered by all. Online radio stations have stood the test of time in providing news, education, and entertainment and are still the favourites of many. This article summarized the best online radio stations for the first quarter of 2022.