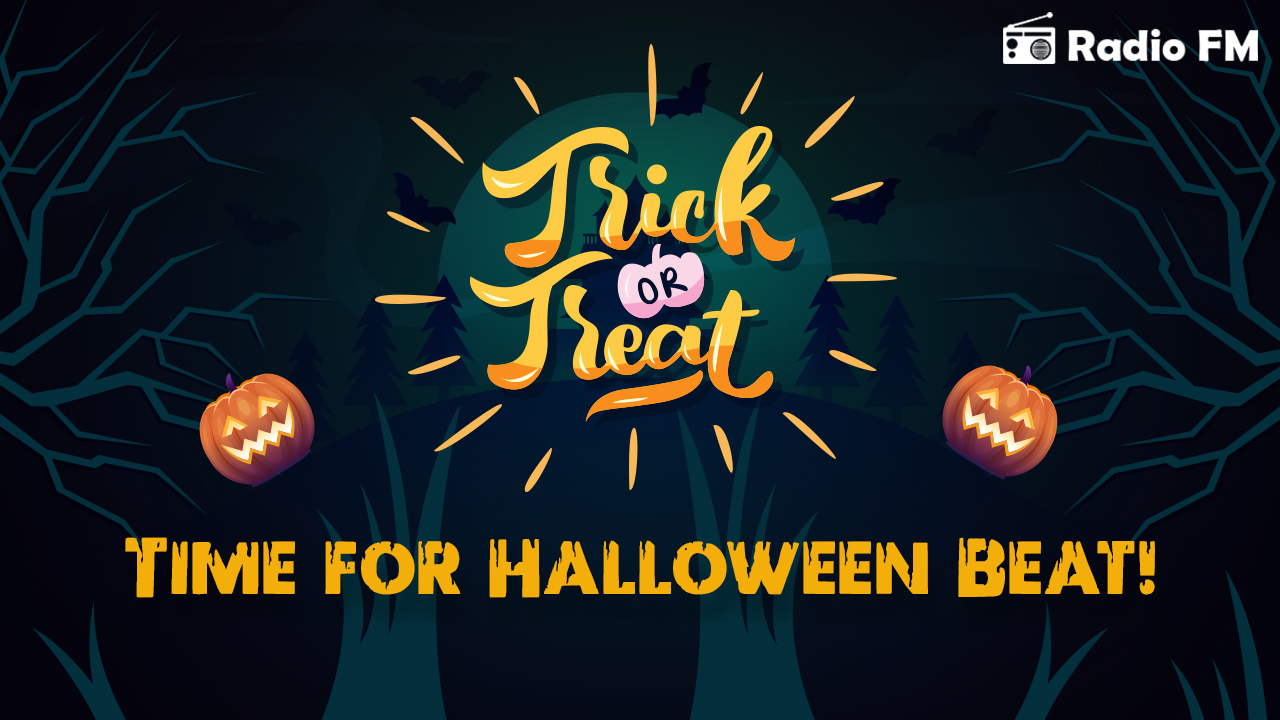 Oct
16
Trick or Treat: Time for Halloween Beat!
blogDetail.by_admin | 16 Oct 2020



Chilly winter, fierce bonfires, otherworldly attires, and shrill music as the boundary between the living and the dead blurs – Boo, Halloween is here! The perception of our most-awaited fall festival can be pretty much summarized by spine-chilling, ritualistic, and supernatural ambiance intensified by eerie scary sounds. Music is probably the one most consistent masterpiece that has failed to dishearten us, regardless of the era we are celebrating Halloween.
Stay hooked for spooky Halloween at-home activities with an added musical bonus: ­­
1. Arrange an awesome freeze dance with a cocktail
Werewolves and vampires, it's going to be your night. A perfect moment to sway with howls, hoots, and screeches. Did you know? 2020 Halloween is going to be a full moon and also a blue moon. It's your chance in the next 19 years to arrange that freeze dance with blood-red cocktails along with streaming horror specials via internet radio.

2. Get all crafty this year at your house with decorations
Switch on Halloween Radio Kids for fun radio shows with your kids to amplify the Halloween feel and start exploring your creative yet creepy decorations so that when ghouls peek at pitch-black night, they envy you. Window clings, spiderweb, and classic Jack o' Lantern along with creepy Halloween music can never get old.

3. Involve the whole family in grisly yet fun themed costume designing and dressing up
Mummy, witchcraft or monster – a whole family in medieval grisly themed attire or a modern creature your mind resonates to this Halloween and spice up the matching and stitching with Horror And Halloween Radio. Don't forget to take your fluffy pets in your gang as well.

4. Play Halloween-themed games in the dark, whether inside or outside
Arrange a backyard campfire or light up your indoor fireplace, play along Halloween Radio Soundtracks to boost the horror vibes as you play the old tricky games or come up with your own such as each player tosses rings round-wise on witches' hat and each perfect toss wins a lollipop from a nearby lollipop tree.

5. Share the actual uncanny stories you have heard
Gather your story-telling essentials featuring Haunted house, paranormal, spirits, and demons with a dim lighted surrounding and scary Halloween music. No matter at what age you are, sharing horror stories always gives goosebumps. Don't want to talk much but get the chills? Just tune in to Horror Theater to hear the stories of the long-gone.

6. Don't let the traditional Trick or Treat fade
What if the pranksters who love trick or treat come knocking at your door and you don't want to disappoint them? Here's an idea – Let your walkie-talkie lie somewhere down your porch, and when they approach shock them by talking in a ghostly voice and switch on wicked music through Halloween FM.
7. Relish the Halloween-inspired family dinner

This festivity calls for candy, treats, and sugar rush, but let's not forget a healthy and delicious satisfying family meal that has a devilishly good makeover to fine-tune with the costumes you are adorned in with Halloween Radio Oldies playing in the background for the ghoulish atmosphere.

8. Create a social media-worthy petrifying photo-booth
Now that you have put up so much effort into decorations why not construct a photo booth that would creep out everyone who sees your selfie posts? What about a shadowy figure or a zombie to strike everyone with shivers? Terrifying, it is with a horror radio background to bring out that phantasm.

9. Inspire from classic horror storybooks and stage a short drama
Sticking with timeless classics is never a bad option. Fake blood, open wound and the undead makeover – whichever your family likes can be taken to a new level with Halloween music, and recorded snippets shared in social media could be another touch to your gothic flair.

Having its roots back to 2000 years ago, we still want to enjoy our Halloween party in pandemic struck 2020 in the comfort zone of our home. No matter whatever themes you want your Halloween to be based on – grim reaper, wizardry, or poltergeist, there will always be appropriate music to enhance the feeling. Even if you are not sure what's on your mind, entrust the responsibility over to diverse Halloween radio without any chance of being disappointed.
Check out the Radio FM app/website for an absolute collection of spookiest radio stations to give you chills this Halloween. Get the best Halloween radios from around the world in one app!
Happy Halloween!