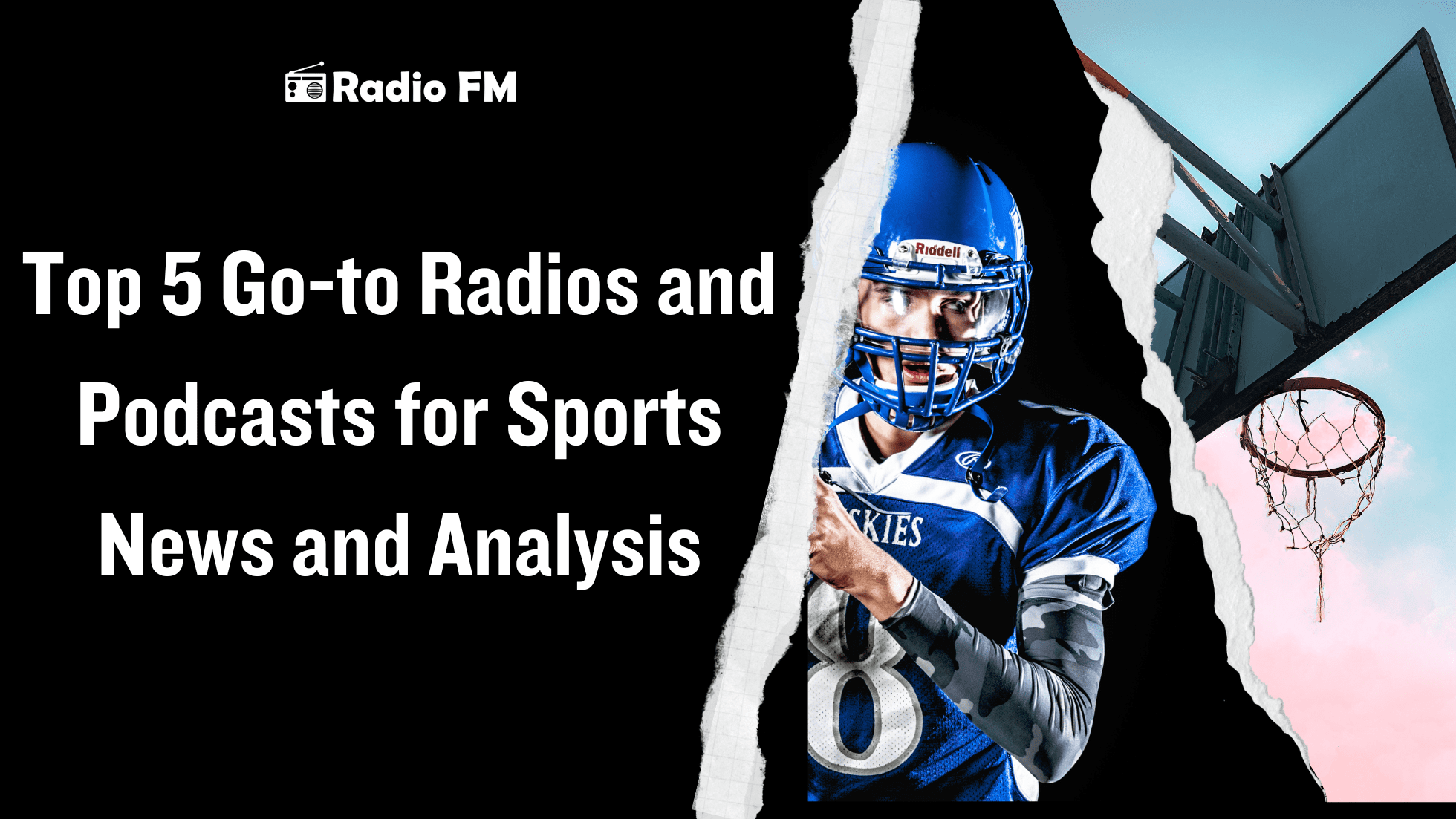 May
31
Your Top 5 Go-to Radios and Podcasts for Sports News and Analysis
blogDetail.by_admin | 31 May 2023
Hey there, sporty! Are you always on the lookout for the latest sports news, in-depth analysis, and engaging discussions? Well, you've come to the right place! In this blog post, we Radio FM will unveil the top five go-to radios and podcasts that will keep you at the forefront of the sports world. Whether you're a die-hard sports fan or just someone who loves to stay informed, these sources will provide you with all the thrilling updates, expert opinions, and insightful commentary you crave.
But wait, we won't stop there! Not only will we introduce you to these fantastic online sports radios and podcasts, but we'll also ensure you get every worthy detail of the enlisted podcasts and online radios that can be helpful in making them Your Top 5 Go-to Radios and Podcast Shows for Sports News and Analysis.
Top 05 Go-to Radios and Podcasts for Sports News and Analysis.
⦁The Dan Patrick Show
Network: Fox Sports Radio Network
Have you heard of "The Dan Patrick Show"? It's a fantastic sports radio show that's part of the Fox Sports Radio Network. If you're a sports fan looking for some entertaining and informative content, this show is definitely worth checking out.
With renowned charismatic and knowledgeable host Dan Patrick, who lives and breathes sports, you'll experience the thrill of lively discussions, game analysis, game news, and the most accurate predictions. Oh, and did we mention the caller interactions and exclusive interviews with athletes and sports personalities?
What sets "The Dan Patrick Show" apart is its ability to strike a balance between in-depth sports analysis and entertaining content.
⦁Mike and Mike in the Morning
Network: ESPN Radio
Are you an early riser who loves to kickstart your day with a dose of sports news and lively discussions? Well, let me introduce you to "Mike and Mike in the Morning," a fantastic online radio show that is part of the ESPN Radio network. This show is the perfect companion for your mornings, offering a dynamic duo that will keep you engaged and informed.
One of the show's strengths is its diverse range of content. From covering major sporting events to discussing breaking news and interviewing prominent athletes and coaches, "Mike and Mike in the Morning" provides a comprehensive overview of the sports world.
What sets this online radio show apart is the Mikes bring their expertise to the table while keeping the atmosphere light-hearted and fun. Their witty exchanges and playful interactions make for an enjoyable listening experience, whether you're a die-hard sports fan or simply looking to start your day with a smile.
⦁The Doug Gottlieb Show
Network: CBS Sports Radio
Insightful commentary, thought-provoking discussions, and a host who knows the game inside out? Look no further than "The Doug Gottlieb Show" on CBS Sports Radio. Well known for providing an engaging and informative ride in the industry.
This show brings a fresh perspective to sports talk radio. Known for his expertise in college basketball and passion for all things sports, Gottlieb brings a wealth of experience as a former academic athlete and basketball analyst. His deep understanding of the game shines through as he dives into a wide range of sports topics, from the NBA to NFL and everything in between.
One of the podcast's strengths lies in its ability to bridge the gap between sports analysis and relatable storytelling. Doug Gottlieb has a unique way of breaking down complex concepts and making them accessible to listeners. Whether he's dissecting a game strategy, sharing personal anecdotes, or interviewing guests, his ability to connect with the audience is truly remarkable.
⦁SVP and Russillo
Network: ESPN Radio
Are you a sports fan looking for a radio show that combines humor, insightful commentary, and a dash of pop culture? Look no further than "SVP and Russillo" on ESPN Radio. This dynamic duo will have you entertained and informed throughout your listening experience.
Hosted by Scott Van Pelt (SVP) and Ryen Russillo, the show brings together their unique personalities and expertise to create an engaging and enjoyable atmosphere. Known for their witty banter and chemistry, SVP and Russillo deliver a blend of sports analysis, entertaining stories, and their trademark humor.
One of the show's strengths is its ability to seamlessly blend sports and pop culture references. They not only discuss the latest sports news, game analysis, and interviews, but they also inject a healthy dose of movie quotes, music references, and amusing anecdotes into the mix. Their back-and-forth exchanges and playful jabs create an engaging dynamic that feels like you're listening to a conversation among friends. This makes for a refreshing and entertaining approach that keeps listeners coming back for more.
⦁The Jim Rome Show
Network: CBS Sports Radio
Have you ever listened to "The Jim Rome Show" on CBS Sports Radio? If you're a sports fan in search of an online radio show that offers a unique blend of sports talk, bold opinions, and entertaining interviews, you're in for a treat.
Hosted by the charismatic Jim Rome himself, this show is known for its energetic and thought-provoking discussions. Jim Rome has been a prominent figure in the sports media landscape for years, and his experience and passion shine through as he dives into the hottest sports topics of the day.
"The Jim Rome Show" is also known for its impressive lineup of guest interviews. From star athletes and coaches to prominent sports figures, Rome brings in a diverse range of guests who share their insights and provide a deeper understanding of the sports world. But what sets this show unique is the show's is Rome's unapologetic style and his willingness to take a stance on controversial issues. He fearlessly shares his opinions, challenging conventional wisdom and sparking spirited debates.
Conclusion:
There you have it! The top five go-to online FM radios and podcasts for sports news and analysis are at your fingertips. Stay ahead of the game with these engaging sources, and never miss a beat when it comes to the thrilling world of sports. From lively discussions to insightful analysis, these platforms will quench your thirst for sports knowledge.
So, gear up and start tuning in or subscribing to these incredible radios and podcasts. Get ready to immerse yourself in the excitement, drama, and passion that sports bring. Let's keep the conversation going, because when it comes to sports, there's always something new to discover!