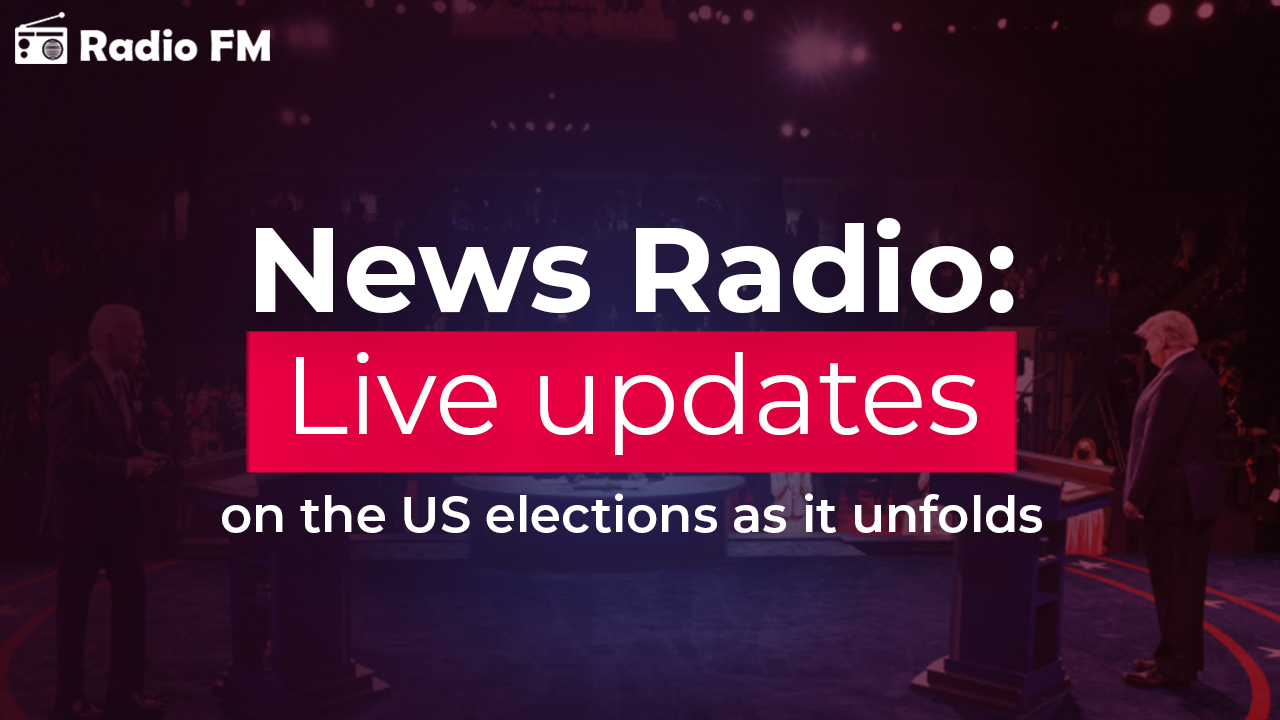 Oct
30
Live updates on the US elections as it unfolds
blogDetail.by_admin | 30 Oct 2020
Prior to the elections, several debates have been ongoing; the first of the debate happened on Wednesday, 30th. The second debate, which was supposed to be hosted at the Curb Event Center at Belmont University in Nashville and hosted by Kristen Welker of MSNBC, was canceled.
The final US elections between former Vice President Joe Biden and President Donald Trump will take place on Tuesday, November 3, and radio networks will offer live coverage of the event. The world's attention is on the US elections, with billions of people tuning in to online radio stations and local stations to follow live updates of the elections and what the outcome will be.
To make it easier for our readers and listeners, we have compiled a list of some of the stations to tune in to live updates of the elections.

Fox News Radio
The live broadcast will be available to Fox News Radio affiliates across the country and on the Fox News Channel app. Fox News was one of the stations that provided a detailed review of the debate, and it was made available on FoxNewsPodcasts.com.
FNR's "Brian Kilmeade Show" (9:00 a.m. - 12:00 p.m.), "Fox Across America" ​​with Jimmy Failla (12-15), and "Guy Benson Show" (3:00 p.m. - 6:00 p.m.) provides live commentary and analysis around the elections. Meanwhile, Fox News Headlines 24/7 continues with its "Democracy 2020" updates covering SiriusXM's 15-minute debates (channel 115).

ABC News Radio
ABC News Radio provided three hours of live, grounded coverage of Thursday's debate, including an hour-long preview, followed by a live debate and post-debate analysis. Correspondent Aaron Katersky reported, and analysis was done by Correspondent Karen Travers, Policy Analyst Steve Roberts, Policy Director Rick Klein, Deputy Policy Director Mary Alice Parks, and other ABC News and FiveThirtyEight political broadcast team. ABC News Radio also provided several one-minute status reports on Thursday evening. ABC News' leading daily podcast, "Start Here," hosted by Brad Mielke, gives a preview of the elections, covering all corners of the forthcoming elections and providing information on the reports from their political network team.

NBC News Radio
NBC News Radio Premiere Networks-distributed, and iHeartMedia-distributed 24/7News, will provide a live presentation of the elections presented by Ryan Gorman with correspondent Will Clark from Nashville.
A large number of persons will be tuning in for the elections on Tuesday, and NBC News has promised to give a unique analysis and live update on the elections as it happens.
BBC News
Katty Kay and Andrew Neil presented the BBC's evening program on the 2020 US election results as the US presidential race nears its dramatic conclusion.
On U.S. election night, November 3, BBC News will report on the race as it unfolds, with live results and expert analysis from London and the United States. Katty Kay and Andrew Neil will host the BBC 2020 US Election Platform on BBC One, BBC News, BBC World News, and BBC iPlayer from 11:30 p.m. GMT/6:30 p.m. ET.
Katty will be broadcasting from Washington, and Andrew will be giving interviews and analysis from London. Katty and Andrew have played a significant role in the BBC's US Election coverage in the past, hosting nightly coverage of the 2016 results.
Jon Sopel and Clive Myrie will lead the Trump and Biden campaigns on election night, with BBC reporters including Emily Maitlis and Nick Bryant in crucial battlefield states and a group of political strategists assessing how the night will unfold, how the campaign was lost. The impact of the decision will have on the American electorate in the years to come.
Salem Radio Network
Salem's radio network provided cover for the debate live. SRN's "Debate Preview" will begin shortly after 8 p.m., presented by network presenter Hugh Hewitt, joined by Ed Morrissey of HotAir.com. The program will include an update from SRN News White House correspondent Greg Clugston live from Belmont University.
The elections will begin on November 3, and it will be broadcast live on SRN without commercial interruption.
CBS News Radio
CBS News Radio coverage begins at 8 a.m., with White House correspondent Steve Portnoy presenting the special report, along with former White House correspondent and collaborator Peter Maer, US political analyst Professor Leonard Steinhorn of University and Correspondent Allison Keyes. CBS News Radio will also provide the short stations with special reports three times an hour, from 9:20 p.m. to 12:50 p.m.

MSNBC
MSNBC will broadcast live and over-the-air Presidential elections on the agreed date, before and after coverage by Hugh Hewitt of the Salem Radio Network. Coverage of the elections will include special guests and a live summary that reacts to the topics covered by each candidate.

Telemundo Radio
Telemundo promotes civic discourse through its 'Decision 2020' business initiative, a multiplatform and honest effort to provide Latinos with comprehensive information on the issues and candidates at stake in the 2020 elections. 'Decision 2020' includes in-depth news info, virtual town hall, and hyper-local online voter registration campaigns with national and local partner organizations. Telemundo also launched new digital programs in English and Spanish.
Additionally, Telemundo launched an in-depth study on September 10 that examines a wide range of young Latinos' political and social perspectives, the driving force behind Hispanic voters' rise. In collaboration with BuzzFeed News, the report titled "Young Latinos: A Generation of Change" includes a national online survey of registered Latin voters aged 18-34 and provides a detailed picture of the country's fastest-growing and most dynamic voting groups in this year's historic election.

Waga-TV
Fox-owned WAGA-TV Atlanta on February 14 launched a new half-hour program, The Road to November, which airs every Friday night in prime time. WAGA covers the main news for the week on the presidential race, the two conflicts for the US Senate in Georgia, and some significant conflicts for the US House of Representatives in the Atlanta area. It also includes commentary from political analysts and in-depth interviews with candidates. "2020 appears to be an unusual and important year for politics, both nationally and in the state of Georgia," said Bill Schneider, CEO of WAGA. This program will play an essential role in condensing the most critical stories into the perpetual cycle of political news for our viewers.

Conclusion
The first debate was held on September 29. The second debate scheduled for October 15 was called off after Trump was diagnosed with COVID-19 and rejected a virtual discussion proposed by the Presidential Debate Committee. The elections will hold on Tuesday, November 3, 2020.
With the Radio FM app/website, you can tunein to a no.of news radio stations like WGBH, Michigan Radio, NHBR, NPR, and many more from anywhere in the world to receive real-time updates on the US General Election between President Donald Trump and former Vice President Joe Bidden.